End of "Greg Mortimer" cruise ordeal: last fifteen passengers flying to US and UK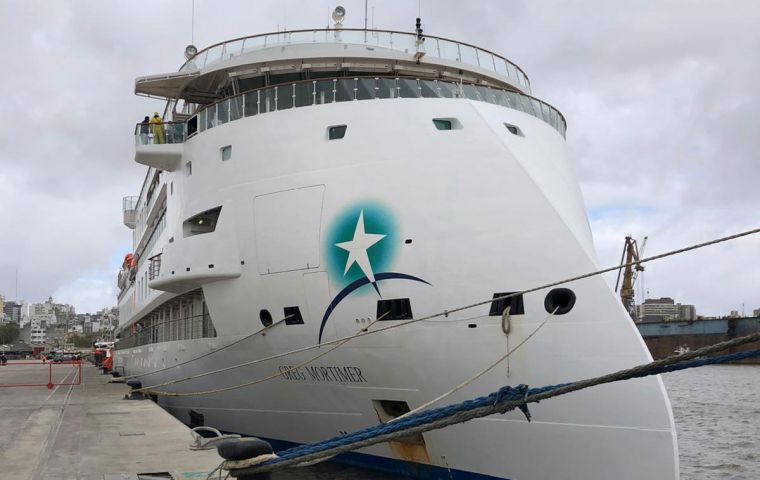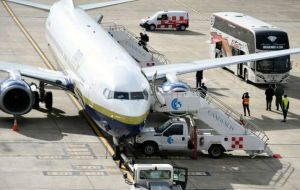 The final leg of the humanitarian repatriation of passengers on board an Antarctic cruise, stranded in Uruguay and most of them testing positive for coronavirus, ended Wednesday afternoon when they boarded in Uruguay's Carrasco international airport a sanitary charter to Miami.
Fifteen passengers in total, 6 American, 3 from UK, one from Holland, one from Switzerland, the rest Canadians and one released from a local hospital were bussed along a humanitarian corridor, organized by Uruguayan health and security staff, linking the port of Montevideo with the airport..
The "Greg Mortimer" was on an Antarctica cruise organized by Australia's Aurora Expeditions and left March 15 from Ushuaia extreme south of Argentina and was also programmed to call at the Falklands and South Georgia, but along the way some passengers and crew members started to show suspicious symptoms of the virus.
With all of South American countries in quarantine and borders closed, land, sea and air, the vessel with mostly Australia and New Zealand cruisers headed for Uruguay, which had a record of helping other stranded vessels with humanitarian repatriations. Following talks between the Australian and Uruguayan authorities, a humanitarian repatriation rescue operation was agreed and organized, involving Uruguayan health, naval, transport, home and foreign ministries staff plus Aurora's local representative, Universal Shipping.
The main obstacle was that in effect Uruguayan health teams effectively confirmed that most passengers on board tested positive for Covid 19, with different intensity. Some of the more serious life/death cases were locally hospitalized and had to be transported from the cruise anchored some fifteen miles off Montevideo.
Finally last week a specially provided Airbus 340 with medical equipment and staff arrived in Carrasco and in a similar humanitarian corridor operation, 112 Australians and New Zealanders were able to fly back to Melbourne arriving on Easter Sunday.
This time at midday Wednesday the "Greg Mortimer" docked in Montevideo port and following the humanitarian corridor, by 16:45 the fifteen passengers had boarded the specially provided Boeing 737/800 with medical equipment and six doctors, and left for Miami. Following refueling in Manaus, Brazil, once in Miami, Americans and Canadians disembark while the rest of passengers are scheduled to continue to the UK.
As in previous occasions, US, UK, Australian, New Zealand, Canadian, Israel embassies have expressed their gratitude to Uruguay for its understanding and efforts to help with repatriation efforts.
The "Greg Mortimer" meantime is back some fifteen miles off the port of Montevideo with its 85 crew members, mostly Filipinos, waiting to complete a fourteen day isolation protocol before sailing for Las Palmas.