"Greg Mortimer" crew members and medical chief officer demand repatriation: "we also have a home country"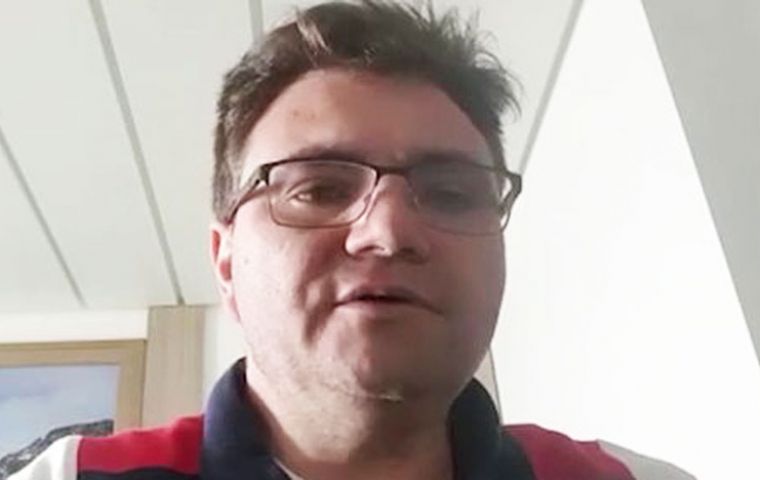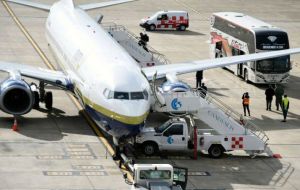 The last cruise of "Greg Mortimer" when it left Ushuaia on March 15th was an invitation to disaster, and now "we are asking for a humanitarian corridor to take us, as they did with passengers, to our home countries", said Mauricio Usme, chief medical officer on board the Aurora Expeditions vessel.
Speaking from some twenty kilometers outside Montevideo where the vessel is waiting for instructions, the medical officer recalled, "Everything was supremely fine until March 15… when all the world organizations said that no more passengers should board, that it was prohibited or recommended, that there should be no more flow of passengers, not even in airports, or and mainly cruises", but March 15 turned out to be a great, great surprise.
When the crew believed it was end of the line and they would be leaving for home, the big surprise happened. Colombian born Dr. Usme said "when we thought it was our last trip, that the trip was going to be canceled, passengers from Australia, New Zealand and the USA came on board, and it was a great surprise because we did not know how they were able to pass controls, knowing that there were so many restrictions and how did the company let these passengers on board..."
"And what had to happen, happened, for simple epidemiology statistics. We started the trip and on March 22 we had the first passenger with fever". In effect as anticipated, it proved to be "an invitation for disaster".
Usme also fell ill and finally had to be hospitalized, together with some ten cruisers in very serious infection conditions, for several days in Montevideo, where the "Greg Mortimer" ended after been refused landing in South American ports, and the Falklands which did not have the capacity to care for so many virus cases.
In the meantime Uruguay and Australia organized a repatriation medical flight for Australians and Kiwis, with a humanitarian corridor and all the sanitary precautions from the port of Montevideo to the Carrasco airport. Some 120 ever so grateful cruise passengers were able to return to their homes arriving in Melbourne of Easter Sunday.
A second repatriation flight, this time organized by the US embassy, in a similar humanitarian operation flew the very thankful fifteen remaining passengers from North America and Europe, to Miami.
But for Dr. Usme after he was discharged from hospital and the rest of the crew, mostly Filipinos, is back on the "Greg Mortimer" for quarantine, where 33 tested positive for COVID-19, one died.
However the Colombian doctor and the crew members are also demanding repatriation, "it's what contract and humanitarian reasons in these extreme circumstances impose".
Dr. Usme revealed that the company has plans to move the cruise to Tenerife, Canary Islands. "I do not agree at all with this… because it means to expose all the crew members to loneliness at sea, which is not correct. Secondly, we did not sign a contract to go to Europe. Thirdly, I left Colombia, arrived in Ushuaia, and should be back in Colombia from Ushuaia or from wherever in South America".
"I am asking the government of my country that has been following my situation through the chancellery here in Montevideo that please, just as there was a humanitarian corridor and flight for passengers, we crewmen also have a country and a nationality.
And I know that our governments can be contacted to work this out or if not, we should wait until the borders are open again (airports) and then leave".
Dr. Usme finally said he had only words of praise and gratitude for the professional and care he received in the Uruguayan hospital and the hospitality and support from the Uruguayan people.