World Penguin Day Highlights Need for More Southern Ocean Protections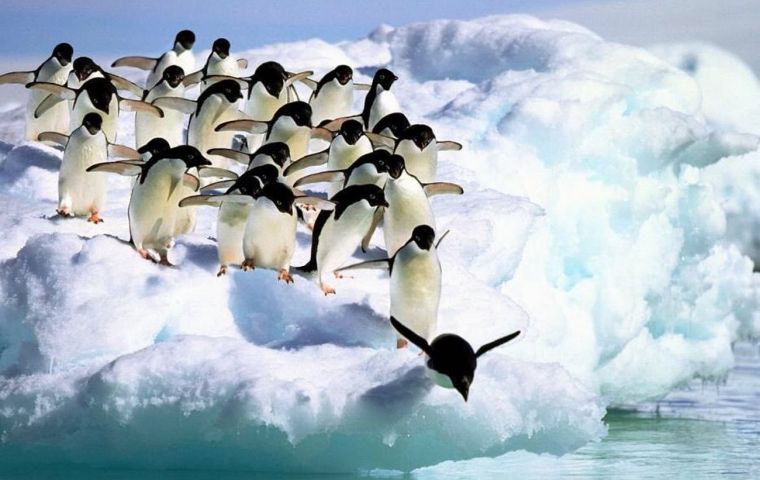 By Andrea Kavanagh (*) – The world is experiencing an unprecedented moment in history, and what feels like a strange stoppage of time. But time, of course, hasn't stopped, and for many species, the ticking clock brings ominous signs.
Earlier this year, the alarm bells rang loudly in Antarctica when scientists recorded the region's first documented heat wave—in East Antarctica—and, in a separate event, when temperatures on the Antarctic Peninsula rose to nearly 70 degrees Fahrenheit. Experts expect even higher temperatures there in coming years, which is bad news for the region and the overall health of the planet. The Southern Ocean not only teems with life, but also regulates global climate and drives ocean circulation that carries oxygen-rich waters and nutrients that support marine life and fisheries in much of the world's ocean.
So warming in the Southern Ocean will have repercussions both within and far from these icy waters, a forecast that threatens one of the region's best known inhabitants—penguins. Although most people associate penguins with frigid climates, their range extends from Antarctica to the equator. But today—on World Penguin Day—I'm focusing on their Southern Ocean home.
To help ensure a thriving future for penguins, as well as leopard seals, orcas, krill, and the region's other species, marine scientists recommend the creation of more marine reserves—something that the Commission for the Conservation of Antarctic Marine Living Resources (CCAMLR) can accomplish when it meets this October.
Research shows that marine protected areas (MPAs)—where no fishing or other industrial activity is allowed—convey numerous benefits. These include conserving biodiversity and eliminating stresses such as fishing, which in turn help ecosystems and species build resilience to climate change. Adding and expanding protected areas in the Southern Ocean would ensure the relatively undisturbed waters remain a natural laboratory for studying how intact marine ecosystems react to a warming and acidifying ocean. By acting now, CCAMLR would also be heeding last September's call from the Intergovernmental Panel on Climate Change for global leaders to increase MPA designations, both in size and number.
During CCAMLR's annual two-week meetings, the commission's 26 member governments always negotiate fisheries catch limits for specific species, such as krill and toothfish (sold commercially as Chilean sea bass), but the body's true mandate is to conserve this unique and vulnerable part of the world.
Although it is too early to tell if this year's meeting will take place, Pew and its partners are urging leaders around the world not to let 2020 slip by without bold new action to protect this incredible penguin-filled place.
Over the 200 years since Russian explorers discovered this icy continent, the region has served as a beacon of international cooperation, with countries joining the Antarctic Treaty and CCAMLR to preserve Antarctica and the Southern Ocean as a place for peace and science. And CCAMLR has taken some laudable steps, first by committing to create a network of MPAs throughout the Southern Ocean and, in 2013, designating the largest protected area in the world in the Ross Sea.
Now, the commission is weighing three protected MPAs—in East Antarctica, the Weddell Sea, and the Antarctic Peninsula—which together would cover nearly 4 million square kilometers of the Southern Ocean. Approving these would accomplish the largest global action of protection ever, both a fitting way to mark the 200 years since Antarctica's discovery and a strong indication that CCAMLR members have the political will to protect these remarkable and irreplaceable ecosystems and the species that call them home.
(*) Andrea Kavanagh directs The Pew Charitable Trusts' campaign to protect Antarctica's Southern Ocean.