Antarctica's Rothera new wharf becomes operational and is waiting for RRS Sir David Attenborough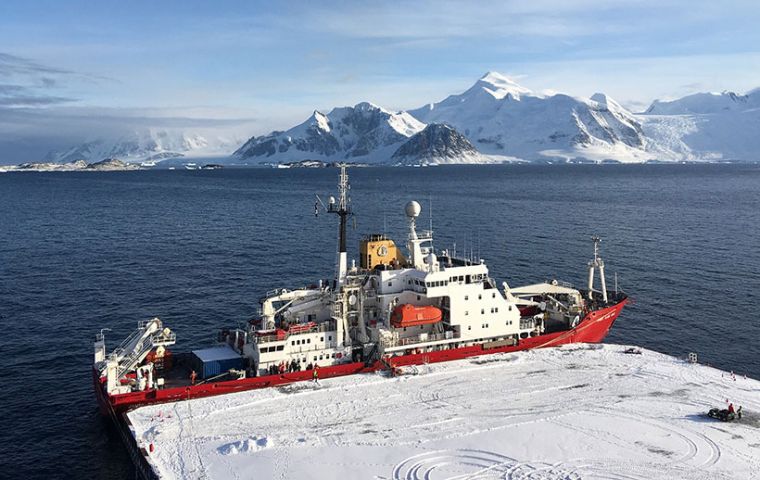 A new £40 million wharf to moor the RRS Sir David Attenborough has been used by polar ships for the first time at British Antarctic Survey's Rothera Research Station in Antarctica to transport staff and materials back to the UK.
A specialist team of engineers, divers, builders and project managers built the 74 meter wharf over 18 months through during the Antarctic summers (November to May). The 50-strong team from construction partners and designers of the wharf, BAM, with the support of Sweco and technical advisors, Ramboll, completed a second, six-month construction season. Turner & Townsend also provided cost management for the project.
The first ships to make use of the wharf at Rothera Research Station is the RRS James Clark Ross on its resupply call, along with the MV Billesborg yesterday carrying cargo for ongoing construction projects.
Building a new wharf in one of the world's most remote locations presented a number of challenges. Every nut and bolt needed to be accounted for and the 4,500 tons of equipment was shipped 11,000 km from the UK to Antarctica. The construction team practiced full-scale assembly of the 45 ton steel frames in Southampton to identify unexpected challenges or additional pieces of equipment needed whilst still in the UK.
The team also needed to clear 2000 tons of snow this November as the site was not operational during the dark Antarctic Winter. The team then worked on completing the wharf's skeleton of 20 huge steel frames, weighing over 1000 tons in total. The wharf was then backfilled with rocks, to complete the structure.
The new wharf will enable the RRS Sir David Attenborough to bring vital supplies and people to Rothera Research Station and help the station run more efficiently with a new crane to launch small science boats, a personnel gangway and a floating pontoon to deploy scientific instruments.
Jane Francis, Director of British Antarctic Survey said: "This is a major milestone in our modernization program to support the UK's critical scientific research on the polar continent for generations to come. Antarctica is a challenging environment and it is testament to the skills and flexibility of the partnership that we have completed another successful season."
Martha McGowan, Rothera Wharf Project Manager at BAM said: "It's been a privilege to be involved in this unique project, working alongside BAS and the other partners in Antarctica for the past two seasons. It's been a highlight of my career and one of the most exciting projects for the whole team. Working in one of the world's harshest climates has had its challenges, but it's been a pleasure to work as part of an integrated team where we all shared a common goal. I'm very proud of our team and how everyone worked together to make sure our spirits, health and wellbeing were all taken care of."
The new wharf is part of the long-term Antarctic Infrastructure Modernization Program (AIMP), commissioned by the National Environment Research Council (NERC), which aims to keep the UK at the forefront of climate, biodiversity and ocean research. The wharf equipment will be formally commissioned and accepted later this year. (BAS)