Argentine Coast Guard chases Chinese jigger operating in the country's EEZ
Wednesday, April 29th 2020 - 07:54 UTC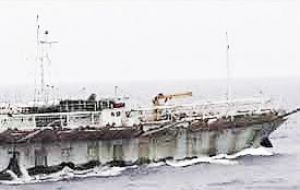 The Argentine Coast Guard was finally unable to arrest a Chinese jigger operating in the country's EEZ, which managed to escape into international waters, the so-called mile 201. According to the force's report, the patrol vessel GC-27 "Prefecto Fique", early Tuesday detected and pursued the jigger Lu Rond Yuan Yu 668, some 390 kilometers offshore Puerto Madryn.
The jigger still with all lights on, to attract squid, and in full operation did not respond to the visual and radio signals sent by the patrol vessel, as indicated by the international protocol for the detention, boarding and eventually arrest of any vessel involved in illegal unreported fishing activities.
The Coast Guard report said that jigger Lu Rond Yuan Yu 668 ignored all radio contact and other communication, turned its lights off, picked up its fishing gear and began sailing towards international waters, which triggered the persecution. A maritime patrol aircraft took off from Comodoro Rivadavia towards the incident area, but the Chinese jigger continued to ignore all communications and orders to turn engines off.
The pursuit continued for several hours, and when the two vessels came across a serious storm, the Argentine Coast Guard decided to give up the chase. Anyhow the GC-27 Prefecto Fique collected all the necessary evidence of the incident plus all the identification data of the involved jigger. An administrative and criminal case under the Federal Fisheries Rules, Bill 24.922 plus resistance to abide authority in Argentina's EEZ was started in the Federal Court at the City of Rawson.
According to Argentine fishing industry sources the Lu Rong Yuan YU 668 belongs to the Rongcheng Homey Ocean Fishing company, one of several companies with a long record of vessels illegally fishing in Argentine waters.
The Argentine Fishing Industry Chambers Association appalled at the number of Chinese and other Asian vessels along the border of Argentina's EEZ, ready to illegally operate in sovereign waters, a few days ago sent a letter to Argentine president Alberto Fernandez requesting patrolling support to impede the looting of the fisheries in the current squid season.
The Argentine fishing industry and its members visually estimated than any number between 95 and 100 foreign vessels were operating in the area next to the country's EEZ and these vessels were prepared to fight back any Argentine jiggers which tried to scare them away.