Argentina expected to make official the extension of debt offer deadline
Monday, May 11th 2020 - 08:40 UTC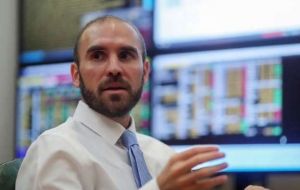 Argentina is preparing to extend the deadline to its debt offer to May 22. The government will publish an extension to its debt offer in the official Gazette this Monday, part of President Alberto Fernandez's next steps in its debt restructuring after extending a deadline over the weekend for creditors to accept an initial offer to exchange $65 billion in overseas bonds.
Days before the original deadline on Friday, the country's three largest creditor groups had already rejected the terms of the offer, which asked bondholders to take significant losses on interest and set a three-year grace period before any payments are made.
"The negotiation continues, nothing is closed," Fernandez said in a radio interview on Saturday. "Nobody wants to fall into default."
The May 22 deadline also takes place when about US$ 500 million of delayed interest payments come due. Failure to reach an agreement or pay the cash by that date would result in a default. Argentina has won the backing of the International Monetary Fund and academics including Joseph Stiglitz and Jeffrey Sachs and insisted that even before the coronavirus pandemic began wrecking its economy, it was unable to pay what is owed.
The extension would allow time for more talks with the creditor groups that had rejected the initial proposal, saying it stuck debt investors with unfair losses. The bonds had edged higher last week on hopes the parties were getting closer to a deal, but still trade at deeply distressed levels near 30 cents on the dollar.
To close the deal Argentina needs the support from creditors owning at least two-thirds on some of the outstanding bonds' face value. Economy Minister Martin Guzman said last week the country is open to tweaking the exact terms of the offer, as long as it leaves Argentina with a sustainable debt burden.
The economy of Argentina, an agriculture powerhouse is poised to contract for a third-consecutive year in 2020 and is battling with a widening gap between its official and unofficial exchange rates due to capital controls and annual inflation that's still hovering above 48%.
On Sunday the Economy ministry headed by Martin Guzman said that solving Argentina's debt situation is a State Policy, and reiterated a video at Government House where preisdent Fernandez is pictured with all provincial governors, even from the opposition stating that "we stand united, under an only flag with the objective of achieving a sustainable future for Argentina"
President Fernandez anticipated on Saturday, following breakfast with Guzman, that once the Monday 11 May deadline has over, "we'll define the next steps"