End of nightmare for Greg Mortimer cruise crew members who begin their long journey back home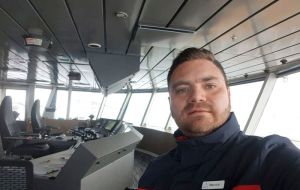 Finally a month after passengers were rescued and medically evacuated to Australia from Uruguay, the 89 crew which remained trapped in the coronavirus infested "Greg Mortimer" cruise have started their long return home.
The vessel which was anchored off the Uruguayan coast, on Monday afternoon docked in Montevideo, with according to sanitary reports at least 37 positive cases of Covid 19. On Tuesday following strict protocols, crew members will be hosted in two different hotels specially prepared and staffed, for the positive and negative cases, where they will have to comply with quarantine conditions, before repatriation.
The arrangements were done by the Uruguayan foreign ministry, in a similar policy to that of the evacuation of the over one hundred cruise passengers a month ago, and in combination with the different Uruguayan health and security ministries.
Apparently the vessel while in Montevideo will undergo a deep sanitation process, and later proceed with a minimum crew to the port of Las Palmas in Canary Islands.
The company which organized the frustrated and nightmarish cruise on board the modern Bahamas flagged vessel is Aurora Expeditions, belonging to a Chinese Australian consortium SunStone Shipping with offices in Miami.
And while the humanitarian policy of Uruguay must be praised and underlined, the organizers of the cruise will be facing a long list of court demands beginning with a class action from the hundred passengers which were stranded in the high seas with the virus. But probably the most serious accusations are from the medical officer on board, a Colombian doctor, who also caught the virus and finally recovered in a Montevideo hospital.
Doctor Mauricio Usme claims that when Greg Mortimer left Ushuaia, Tierra del Fuego on March 14, international maritime authorities had already recommended to stop all cruises, and the Argentine province had decreed a quarantine until March 31. He was most surprised that despite all the circumstances to the contrary, the company decided the cruise was on and left with passengers from Ushuaia for the Antarctica tour.
Likewise Dr. Usme claims that the company insisted he rewrite and amend the on board sanitary report so that it would be much easier to try and dock the vessel in Uruguay, since Argentina and Chile had closed borders. This was so because Uruguay had previously, on humanitarian reasons, allowed some 700 cruise passengers to be repatriated following on the sanitary corridor principle between the port of Montevideo and the international airport of Carrasco.
The Colombian doctor also pointed out that obviously the mental situation of crew members was rapidly deteriorating, aggravated when on 17 April a Filipino cook had to be urgently taken ashore where he died. The captain also allegedly ordered the internet turned off.
So hopefully the crew members, mostly Filipinos, second rate citizens, abandoned on a virus infested vessel for a month, can begin the long return to their homes thanks to the generosity of Uruguay.