Google retracts itself, Cristina Fernandez is not the "thief of the Nation"
Monday, May 18th 2020 - 08:38 UTC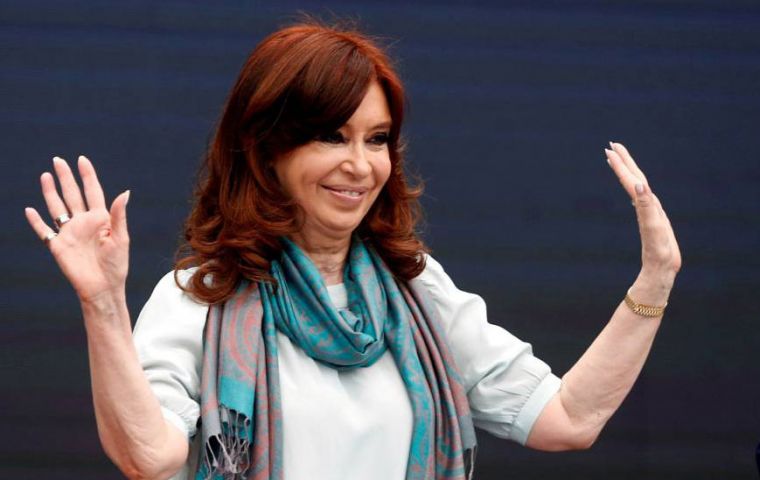 Googling has become for many the source of virtual knowledge, but it is also a source of many errors and misinformation, even when accepted as the undisputed revelation. Such is the case of what happened over the weekend with the name of the Argentine leader, Cristina Fernández de Kirchner on Google since the first search result returned a "thief of the Nation".
The news was reflected late Saturday and early Sunday by various national media until Google corrected the reference and went out to explain what happened.
"First thing today, we learned about this situation in the knowledge panel of the former president and current vice president of the Nation, Dr. Cristina Fernández de Kirchner, who was immediately reported to our international teams and resolved in the course of the morning," Google Argentina sources explained, according to Buenos Aires daily La Nación.
"This adjustment may not be reflected immediately for all users because its update is progressive," added the company.
The "Thief" appeared in the "knowledge panel" of Google, which is the first thing that appears on the phone when one performs a search. While on a desktop computer, it appeared in the upper right margin of the search engine.
These elements are intended to provide the user with "a summary of information on a specific topic," which can be a person, a place, an organization, or "things," Google said to explain what a "knowledge dashboard" is.
"Knowledge panels are automatically generated, and the information that appears on them comes from various sources across the Web," they explained. In addition, from Google pointed out that there are "data partners" that provide "reliable information on specific topics" and combine that data with other "public web sources."
Further investigation by La Nacion pointed out that Google normally appeals to Wikipedia as its first source, "since Wikipedia editors are very responsible and knowledgeable, but obviously they have their own ideas and they filter them".
In effect what was changed was the translation of the post of Vice president to Spanish for "Thief of the Nation", and thus reflected by Google. "If no one is monitoring it is recorded as such until someone alerts of the error", which apparently is what happened.
This means you should not sustain Wikipedia as a first and only source of information even when 90% of its pieces are well written and edited, but 10% refer to political issues and are constantly bombarded. The problem is that Google is based on a most uncertain source"