Argentina establishes a minimum oil price of US$ 45/barrel for domestic sales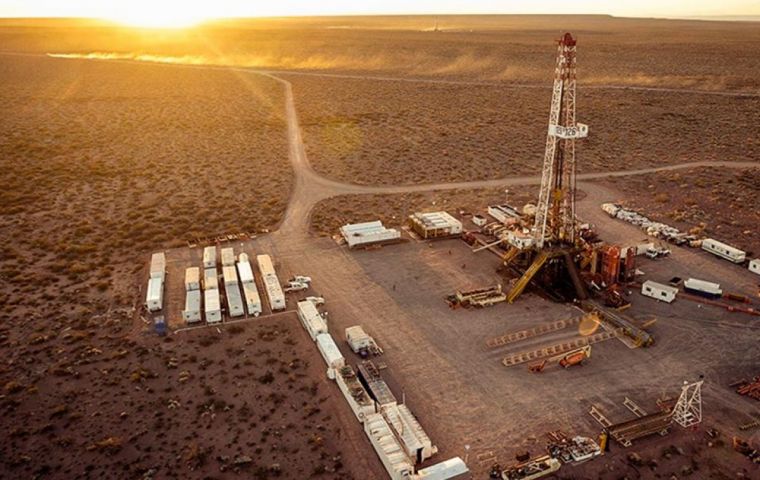 Oil companies in Argentina are obligated to maintain production, payrolls, and investment and cannot repatriate profits under a decree that establishes above-market prices for domestic crude. The decree published on Tuesday sets a minimum price of US$ 45/bl for domestic sales of light sweet Medanito crude.
"This price will be adjusted for each type of crude by quality and by point of shipment," the decree stipulates. The minimum price, which is subject to quarterly revisions, will remain in place through December unless the price of Brent crude goes above US$ 45/bl for 10 consecutive days.
Export taxes for crude and refined products have been eliminated, from a previous 8%, as long as the Brent price remains below US$ 45/bl. If the price surpasses that threshold, export taxes would be gradually reinstated and would be fully re imposed at a Brent price above US$ 60/bl.
While the decree remains in effect, all oil producers must maintain the levels of activity and production registered in 2019. But the decree provides some leeway, emphasizing that the government will consider reduced domestic and international demand caused by pandemic restrictions.
Producers are also required to maintain existing service contracts and keep the same number of workers they had on 31 December 2019. Any company that fails to fulfill its annual investment plant could be fined. Fines range from the equivalent of 22m3 (138 bl) of crude at the domestic price to a maximum of 2,200m3 for each infraction.
While the minimum price is in effect, producing companies are also limited in their access to the foreign exchange market unless necessary for their daily operations, meaning they are effectively barred from sending profits outside Argentina.
Refiners are obligated to purchase all crude from domestic producers and are prohibited from importing any products that are available at home. As part of the measure the government has vowed not to raise fuel taxes until October first, a move meant to thwart pump price increases.
Independent producers such as Vista and Pluspetrol and refiners such as Trafigura and Raizen are most impacted by the new decree. State-controlled YPF, Argentina's top producer and refiner, is less exposed because of its integrated operations, and the decline in demand stemming from the coronavirus restrictions means it has suspended outside crude purchases.
The decree, which emerged out of tense negotiations between independent producers and refiners, marks a big win for oil-producing provinces seeking to protect tax revenue.
"This new scheme gives predictability, security and trust. It puts forward clear agreed-upon rules to develop hydrocarbon activity," Neuquen governor Omar Gutierrez said. The southwestern province of Neuquen is home to the Vaca Muerta shale formation.