Puerto Madryn 2020/21 cruise season agenda and calls "stand"; first vessel expected 25 October
Wednesday, May 20th 2020 - 08:56 UTC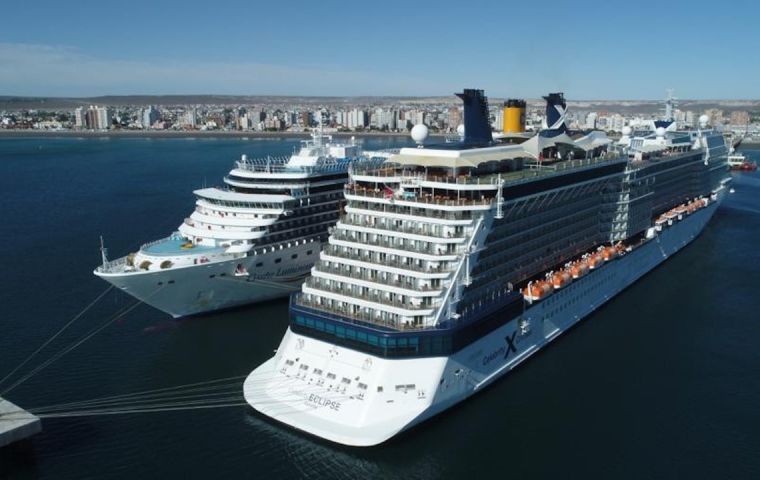 The head of the port's administration of Puerto Madryn, in Argentine Patagonia, said that so far the coming 2020/21 cruise season "stands", and the first vessel is scheduled to call in the Chubut province maritime terminal next 25 October, despite the pandemic.
"Of all the consultations we have done with maritime agencies and companies, the forty calls in our agenda, stretching from 25 October to the first of April 2021, have replied positively, they all stand, which means some 93,660 cruisers, between passengers and crew members, will be arriving to Puerto Madryn", said Hector Ricciardolo, head of the ports administration.
Nevertheless Ricciardolo pointed out "we have to be aware that most passengers, purchased the cruise travel some two years ago, so companies will have to decide how they are going to solve the situation with those who finally cancel because of the pandemic".
Anyhow Ricciardolo argued that travelling in a cruise vessel is more trustworthy than any other means of transport because passengers have more space, and protocols can be applied that can be rapidly adopted for the different sanitary situations. "Besides the motto of cruise vessels and companies is hygiene and bio-security, which undoubtedly will be increased because of the situation the world is undergoing".
Tourism and the cruise industry have been some of the sectors most punished by the global sanitary situation that the coronavirus created. In effect the pandemic has strongly curtailed the Mediterranean and Caribbean cruise seasons, but there are expectations that this can be overcome during the summer austral months. Cruise companies have lost billions of dollars as a consequence of the current situation.
"But it is also most expensive to have the huge vessels moored or waiting to resume sailing, which is an additional hope, that fills us with the illusion, that the coming season we are going to see them again along the South Atlantic," indicated Ricciardolo. But the head of Puerto Madryn also admitted that moment of truth will only come with the ratifications some time next October, November.