Argentina asks Ireland's support to exclude the Falklands from any post Brexit EU-UK accord
Saturday, May 23rd 2020 - 10:50 UTC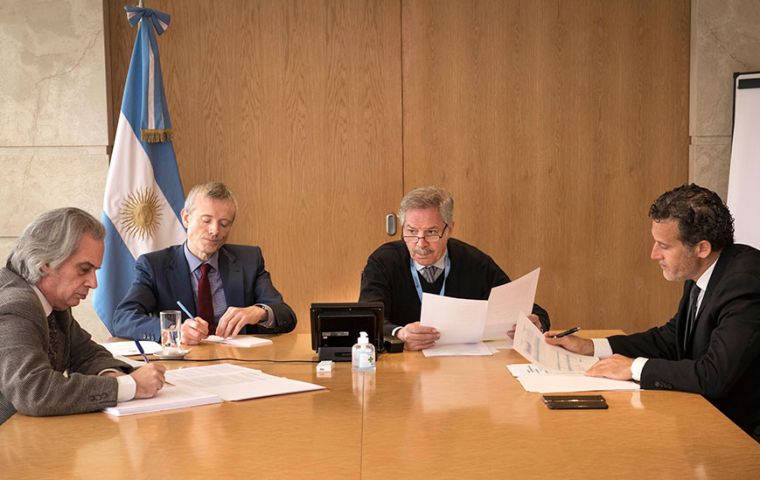 The Argentine foreign minister Felipe Solá held a round of talks with his counterparts from Australia, Ireland and Armenia to address issues of special significance for an Argentine foreign policy such as the current Coronavirus pandemic, and its impact on the global economy, and the European Union position regarding the Falkland Islands in a post Brexit scenario.
In talks with Australian foreign minister Marise Payne, Sola agreed on the need to strengthen the role of the World Health Organization, WHO, and underlined that Argentina insists that any innovation or advances to combat Covid 19 must be declared a "global public asset" and accessible to all countries.
"We must insist that all technologic innovation related to Covid 19, be it vaccines, new treatments and others, must not be only motivated by the search of high profitability", underlined Solá who during the conversation was backed by two professional diplomats, foreign affairs secretary Pablo Tettamanti and foreign ministry cabinet chief, Guillermo Justo Chaves.
On Thursday Solá held a long conversation with Irish foreign affairs minister Simon Coveney. The minister started by thanking Irish authorities for the assistance provided during the funeral of the Argentine ambassador in Dublin, Laura Bernal. But the main issue was referred to the Falkland Islands in the context of current post Bexit negotiations between the European Union and the United Kingdom.
Argentina is concerned, in the event of an accord with the European Union which regulates the future association of UK with the EU, about the implications it could have for "the Argentine territories of the Malvinas, South Georgia and South Sandwich Islands, under sovereignty dispute with the UK".
"Argentina would much appreciate Ireland's support so that the European Block, in the framework of the trade agreement signed with Mercosur, abstains from including the Malvinas Islands in the current negotiations with the UK, referred to the withdrawal of UK from the EU, in such a way that this relationship in the future, does not apply or have effects for the Islands.
Finally Solá talked with his peer from Armenia, Zohrab Mnatsakanyan, with whom they shared experiences regarding the Covid 19 pandemic, bilateral relations, Argentine investments in Armenia and the commemoration of the tenth anniversary of the opening of the Argentine embassy in the capital Erevan.