Falklands had a record breaking 2019/20 cruise season, with 72,836 visitors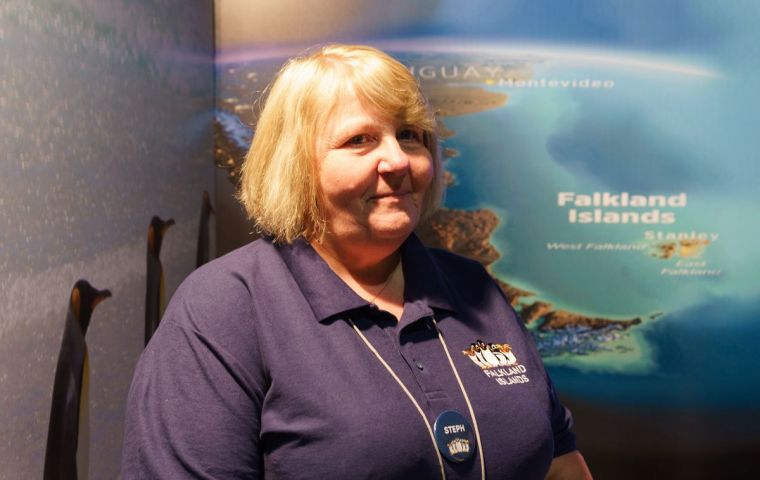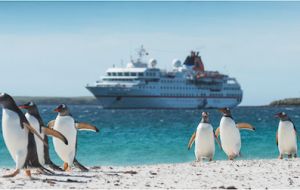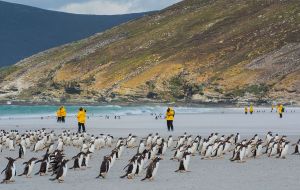 Despite being cut short by the COVID-19 pandemic, 2019-2020 proved to be a record-breaking cruise season in the Falkland Islands. A total of 72,836 cruise passengers arrived in the Islands, up 16.5% on the previous season.
Stephanie Middleton, Executive Director of the Falkland Islands Tourist Board (FITB) said: "This was all against a background of considerable disruption with 29 cancellations, which could have added over 9,000 more passengers.
"By comparison, there were only seven cancellations last season".
Eight of the cancelled calls were due to the pandemic, with the others being a mix of operator problems and weather conditions.
While the number of arrivals on non-expedition cruise vessels was up 13% to 55,905, it was the expedition market that grew significantly, up 30% to 16,931 passenger arrivals.
The USA remains the main market, accounting for 39% of all arrivals (up from 35% last season), with the UK being the second largest at 11%.
There were significant differences between the expedition and non-expedition markets. The non-expedition market was dominated by passengers from the USA, UK and Canada, while the top three nationalities on expedition vessels were USA, Germany and the UK.
Ms Middleton added: "It is worth noting that the number of German cruisers is fast catching up the USA market on expedition vessels, whilst Australian, French and Swiss passengers are also significant. The previously fast-growing Chinese market contracted significantly this season, dropping by 26%, whilst the Brazilian market grew by 33% and the number of Argentine nationals increased by 6%."
Out in camp, the most visited destination was, once again, West Point Island, with 47 cruise ship visits, exactly the same as last season, accounting for 32% of all camp calls. Saunders Island received 23% of all visits, Carcass Island 17%, and New Island 15%.
Each year FITB undertakes a Cruise Visitor Survey to measure expenditure and levels of satisfaction.
This season average the spend per cruise visitor fell slightly from £64.89 to £60.03, however due to the increase in visitors, total cruise spend hit a record £4.4 million, up from £4.1 million last season. (Penguin News).-