Toothfish season underway at South Georgia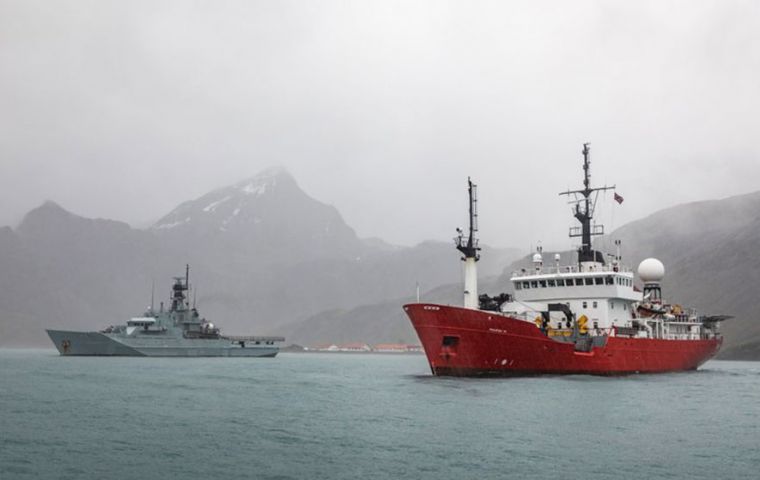 The Government of South Georgia and South Sandwich Islands, GSGSSI, usually celebrates the toothfish fishery on the 4th September each year – Toothfish day. However, this season celebrations started early, when, on the 1st May the first vessels arrived at South Georgia for the start of the 2020 fishing season.
The licensed longline vessels flagged to the UK (St Helena), New Zealand and Chile are currently participating in the MSC certified toothfish fishery following inspection by GSGSSI officials in Stanley. Getting to a point where a fishery of any sort could take place when Covid -19 has confined fishing vessels and crews to ports across the globe would have been noteworthy. Ensuring a fishery is taking place that is fully compliant with all of the required national and international regulations with no watering down of the GSGSSI's rigorous environmental protections is something to be celebrated.
In partnership with our fishing operators, and contractors, GSGSI worked tirelessly to ensure that a fully compliant fishery could take place this season in the face of the pandemic. Ensuring the health of vessel crews, government officials and contractors, and preventing the risk of introduction of Covid 19 to South Georgia, has been the paramount concern whilst compliance has not been weakened.
Despite the huge constraints on travel and logistics imposed by the pandemic, all fishing vessels are operating in full compliance with both SGSSI and CCAMLR regulations including the requirement to deploy an international scientific observer. In addition, to eliminate the risk of vessels re-introducing rats to the rodent-free island, all underwent a thorough bio-security inspection in the Falkland Islands using the rodent detector dog Sammy, before departing for the fishing grounds of South Georgia.
Careful planning and cooperation with the vessel operators has ensured that GSGSSI's Patrol vessel Pharos SG will be operating as usual throughout the Maritime Zone during the fishing season and will be able to conduct at-sea boarding and inspections of vessels when required in a manner that ensures the safety of all involved. (South Georgia Newsletter).-