Falklands Airbridge, strict measures for travellers; no Latam flights for at least the next two months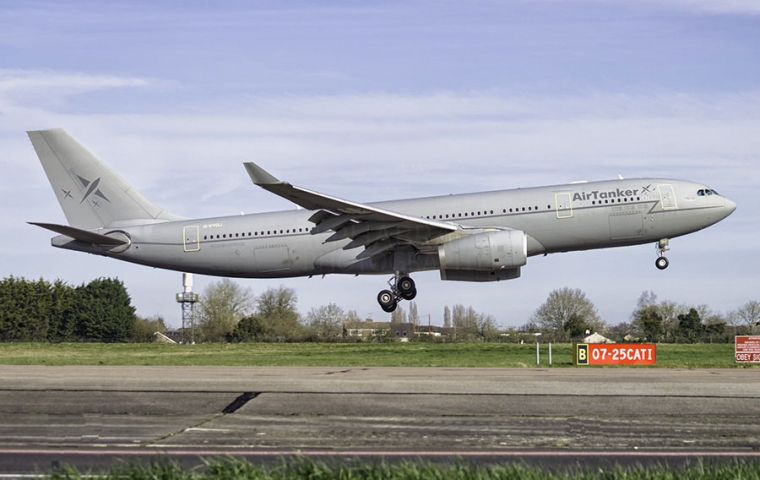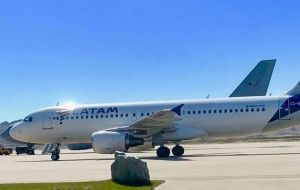 The Falkland Islands currently have an only air link which is the air bridge with the United Kingdom twice a week, since the commercial flights from Chile and Brazil managed by Latam, have been suspended at least until the end of July.
Nevertheless the Falkland Islands Government, FIG and the British Forces South Atlantic Islands, BFSAI, at the Mount Pleasant Complex where the international airport facilities are located, established strict travel restrictions between Stanley and MPC.
And although there has been some easing recently, FIG passengers on Southbound flights still need to book with commercial transport (Penguin Travel) for transfers between MPC and their accommodation in the Falkland Islands. This is in support of existing quarantine arrangements for arrivals.
Likewise FIG Passengers on Northbound flights are not required to book commercial transport and can be dropped off at MPC providing all current requirements regarding holding a ZUB pass are met.
A reminder that in line with the UK Government's guidance, passengers travelling on the South Atlantic Airbridge will be required to wear a face covering.
All passengers aged 11 years or above should be in possession of a face covering when they report to the Air Terminal and must wear the face covering whilst on the aircraft.
Travellers will be asked to prove they have a face covering at check-in and may be prevented from accessing the South Atlantic Airbridge, if they do not have a face covering.
Passengers who do not wear a face covering whilst on-board the aircraft may be refused carriage and will be liable for any arrangements and costs associated with their alternative travel plans.
Regarding commercial flights to the South American continent, LATAM has confirmed that the Punta Arenas-Santiago route will remain suspended until end of August, and they will review the situation nearer the end of that period.
The São Paulo route suspension is currently suspended until at least end of July, and is being reviewed as to a future period of suspension.
FIG continues to monitor and review with LATAM on a regular basis and further updates will be provided in due course.