Uruguay raises US$ 2 billion in dual currency fresh funds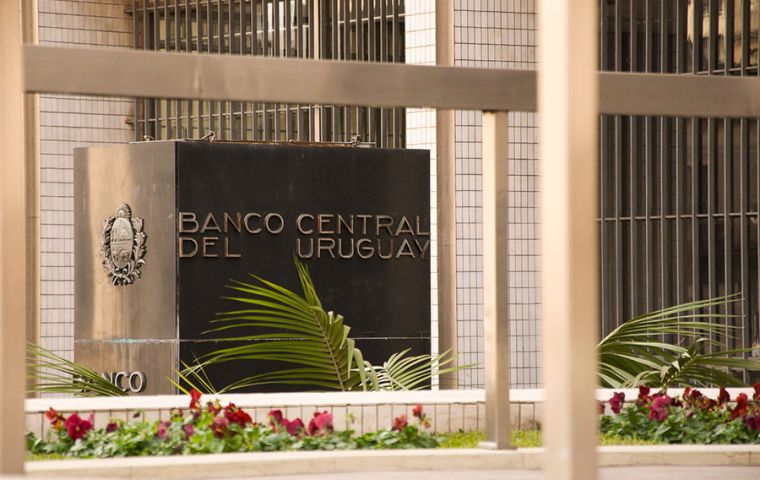 Uruguay raised US$ 2 billion from a dual-currency debt deal on Wednesday, issuing UYU47.1 billion (US$ 1.12 billion) in new inflation-linked, 20-year notes and adding US$ 400 million to its 4.375% 2031 bonds, plus a rescheduling of US$ 500 million in 2027, 2028 and 2030 Indexed Units.
The new 2040 notes priced at par to yield 3.875%, while the tap on the 2031 notes priced at 115.895 to yield 2.481%, or 180 basis points over US Treasury notes, the source said.
The book runners Citi, HSBC and Itaú BBA put the initial price talk in the low 4% area for the new 2040s, before setting guidance at 4%, plus or minus 12.5 basis points, and launching the deal to yield 3.875%.
The tap opened around 200 basis points over US Treasury notes, but it came down to 180 basis points at guidance and launched at 180 basis points.
Total orders for both notes reached US$ 6.1 billion with $2.5 billion for the dollar-denominated tap.
Uruguay said in a prospectus that it intends to use the proceeds "to partially finance the implementation of measures designed to support economic activity, employment and protect vulnerable sectors, including COVID 19-related government response through Uruguay's broad social safety net and the remainder for general purposes of the government, including financial investment and the refinancing, repurchase or retiring of domestic and external indebtedness, such as old bonds tendered and accepted in the offer to purchase."
Uruguay also announced plans on Wednesday to buy back all of its 4.25% 2027, 4.375% 2028 and 4% 2030 bonds. The government offered to pay UYU1,040 for every UYU1,000 of the UYU12.1 billion in outstanding 2027 bonds along with UYU1,056.23 for every UYU1,000 of the UYU12.1 billion in 2028 bonds and UYU1,033 for every UYU1,000 of the UYU14.7 billion in 2030 notes.
Uruguay's Public Debt Coordination Committee said that the government was "looking for a cost-efficient window of opportunity" to sell bonds in international markets this year. In April, the country signed a three year memorandum of understanding with the Japan Bank for International Cooperation (JBIC) to work together on the sale of yen-denominated bonds.
In its previous cross-border bond deal in January last year, Uruguay issued US$ 850 million in 12-year notes at 175 basis points over US Treasury bonds.
As of Wednesday, Uruguay had US$22.9 billion in outstanding bonds with US$ 14.4 billion in US dollars, US$ 374 million in yen and the rest in Uruguayan pesos, according to official Central bank data