Falklands' visitors growing satisfaction, according to TripAdvsor ratings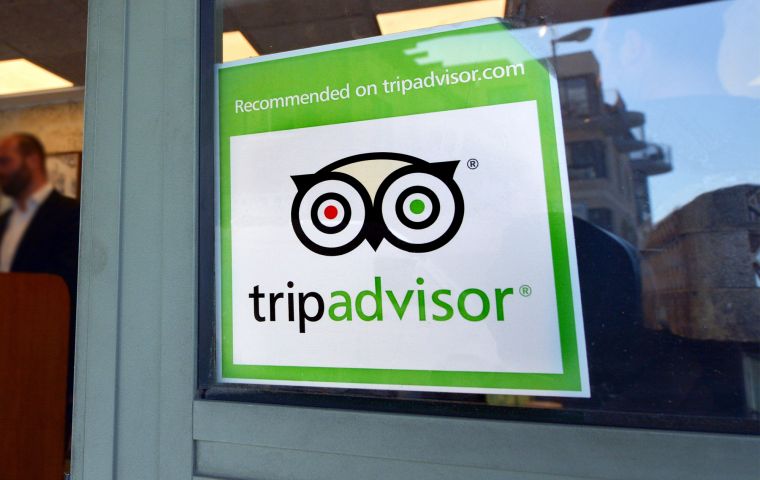 The Falkland Islands Tourist Board annual assessment of TripAdvisor ratings shows that the overall satisfaction of visitors to the Islands increased in 2019. There are almost 5,000 ratings of accommodation, attractions, pubs, restaurants, and tours in the Falklands on TripAdvisor, with 600 of these being posted over the last 12 months.
However there were winners and losers in the ratings. Satisfaction levels for Stanley accommodation and tours increased the most, with The Pale Maiden, Lafone House and the Waterfront Boutique Hotel performing well, whilst Bluff Cove, Estancia Excursions and Falklands Outdoors were the best performing tours.
There was a drop in satisfaction ratings for attractions in Stanley and in Camp. Many of these are free to visit, such as the Lady Elizabeth, Cathedral and Gypsy Cove, so visitors have no interaction with local guides, however they are rated on their appearance, condition and enjoyment levels.
Despite lower satisfaction from several attractions, there were some notable increases, in particular for the Historic Dockyard Museum which scored highly in 2019.
Executive Director of the Falkland Islands Tourist Board (FITB), Stephanie Middleton said, "TripAdvisor reviews provide us with an excellent indicator of visitor enjoyment and satisfaction, and strategically allow us to make decisions on where to focus resources. We want operators of accommodation, tours and other tourism-related businesses to encourage their guests to leave reviews on TripAdvisor."
FITB has just published its annual Tourism Statistics Report for 2019, which includes detailed data on overnight tourism, cruise tourism and domestic tourism.
Domestic tourism trips have grown by 20% in 2019 to almost 12,500. Whilst lower spending than international visitors with an average spend per trip of £56, the volume of trips taken by these tourists and the number of nights spent away (over 44,000 in 2019) means that they contribute almost £700,000 to Falklands economy.
Ms. Middleton added, "Domestic tourism is less seasonal than international tourism, and several of our self-catering accommodation are kept relatively busy across the winter with weekend and school holiday visitors; in fact one-third of all spend in on places to stay. However, whilst the majority of trips are by car, there was also a significant spend on FIGAS of £175,000 in 2019."
The Falkland Islands Annual Tourism Statistics Report 2019 is now available on https://www.falklandislands.com/trade/statistics (PenguinNews)