Chilean copper industry halts expansion to slow the spread of coronavirus among miners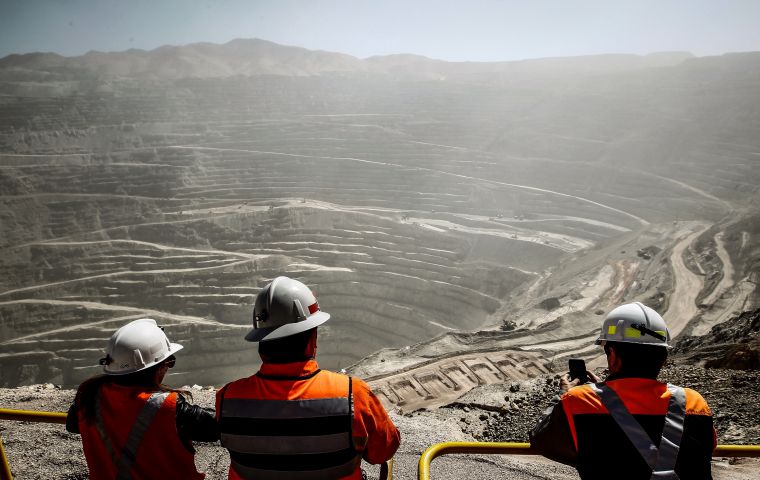 Chile's Codelco has halted work on a multibillion-dollar project to extend the life of its El Teniente mine as the copper producer strives to slow the spread of the coronavirus disease through its workforce, the state-owned mining company said.
The temporary measure would allow it to reduce the number of workers and contractors on site by around 4,500, "limiting movement and reducing the possibilities of infection," the company said.
The new mine level at El Teniente, the world's largest underground copper mine, will extend the life of the operation until the second half of this century.
The mine is Codelco's largest by output, contributing more than a quarter of the 1.7 million tons of copper that the company produced last year.
Demobilization from the Andes Norte, Diamante, Andesita and Recourses Norte sites had already begun in late June, Codelco said. The move follows the suspension of all construction projects at its operations in northern Chile, including the new US$ 5 billion Chuquicamata underground mine.
Chile's giant mining industry, which produces almost 30% of the world's copper, has largely continued to operate through the coronavirus pandemic.
However, mining companies are coming under increasing pressure to take more drastic measures to protect employees as the number of cases in the industry continues to mount.
Over the weekend, Codelco's top labor organization, FT,C reported the deaths of two more workers employed at its operations from coronavirus disease.
Last month, management at El Teniente negotiated with unions a move to a 14 days-on, 14 days-off shift system, increasing the possibility that the disease could be detected in workers before they returned to the mine.
The company also has closed the smelter and slowed refining operations at the Chuquicamata site. The aim is that by taking more radical measures, the industry can avert the complete shutdown of some mines.
Chile's economy contracted by an unprecedented 15.3% in May as thousands of businesses were forced to close due to the pandemic. But economists warned that the figure could have been much worse.
The efforts "have allowed mines to keep operating and continues the generation of profits which the country needs more than ever during the pandemic," Codelco said in its statement.