Brazilian orange juice exports totaled 1,07 million tons in 2019/20 harvest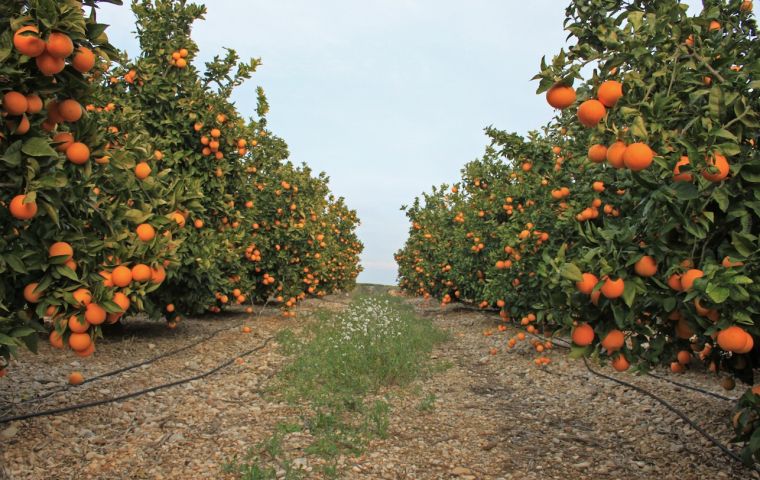 Brazilian orange juice exports registered a total volume of 1.07 million tons during the 2019/2020 harvest – an increase of 17% compared to the previous harvest, when 920,029 tons were shipped.
Sales reached US$1.751 billion, up 3% compared to the US$1.707 billion generated in the previous harvest. This information is according to data from the Foreign Trade Secretariat (Secex) compiled by CitrusBR.
According to the executive director of CitrusBR, Ibiapaba Netto, although it is a positive fact, the increase occurs over a small base. "When we look at the historical basis, we are back to the level recorded in the 2015/2016 harvest".
The advance is also explained by the greater amount of juice on the market. The sector processed more than 325 million boxes, totaling 1.2 million tons of juice in the 2019/20 harvest, about 37% more than in the previous period.
Among the markets, Europe remains the main destination for Brazilian orange juice exports, followed by the USA, Japan, Asian countries.
In related news the Louis Dreyfus Company (LDC) began operating a new vessel this week to transport juices and its derivatives. According to the company, there will be two new vessels that are more modern, efficient, and sustainable, which together have 20% more capacity than the three vessels of the previous fleet, reducing fuel consumption by 40% and sulfur emission levels by 85% per ton of product.
The fleet, 100% dedicated to the transport of juices, will give LDC more autonomy to operate the preferred export routes even more efficiently. Being 180 meters long and 30 meters wide, the ships together have the static capacity to transport 50,000 tons of juice and have tanks for customized products. The first ship starts operating this week, and the second is scheduled to start operating in August.
To reinforce the distribution of fresh orange juice (NFC) in Europe, the United States, and Asia, LDC also increased its storage capacity by more than 50% and blending capacity by more than 20% at the port terminal and in the Ghent processing unit in Belgium in 2019.