Virus moving south: Brazilian state of Santa Catarina reimposes strict confinement measures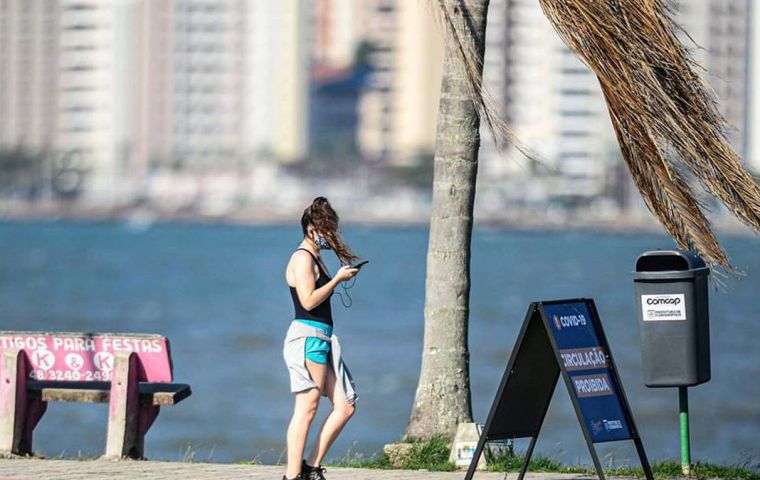 The southern state of Santa Catarina, which borders with the Argentine province of Misiones decreed on Saturday strict confinement measures following a record death toll from the coronavirus pandemic.
In effect the state whose economy is based on agriculture and tourism, in the last 24 hours registered 59 deaths which tested positive to Covid-19, and imposed social isolation measures in 111 of its 295 boroughs starting with a ban of people circulating in open public spaces. Furthermore the return of children to school was postponed until September.
Santa Catarina has an area similar to that of Hungary and a population of 7,2 million, and was until now one of the Brazilian states with less serious virus hospitalizations and deaths, despite a high level of contagion. But recently the death toll has climbed significantly.
Brazil with over two million Covid-19 cases and more than 78,000 deaths seems to be showing a decrease in numbers particularly in some main cities such as Sao Paulo and Rio do Janeiro, the heart of the pandemic, and also in the north and northeast states, which also suffered greatly.
But only recently the virus has started to move south and center-west where its effects in numbers were originally milder, mainly in Santa Catarina and Rio Grande do Sul.
However Santa Catarina now registers a total of 51,549 confirmed cases and 646 deaths with an incidence rate of 719,5 contagions per 100.000 population, greater than in neighboring Parana state, 448,4, which borders with Argentina and Paraguay, and Rio Grande do Sul with 410,6, next to Uruguay and Argentina.
With six of its seven regions currently under a very serious condition, including the capital Florianopolis, the government of Santa Catarina decided to return to the most restrictive circulation measures. Another seven regions were defined in "serious" sanitary condition and an additional two, one of them next to Argentina, in sanitary "high risk".
Santa Catarina was the first Brazilian state to make quarantine and social distancing more flexible, with the exception of the capital Florianopolis, and on 13 April reopened businesses and most economic activities.