In Argentina, 55% of all registered workers are employed by government
Monday, July 27th 2020 - 09:38 UTC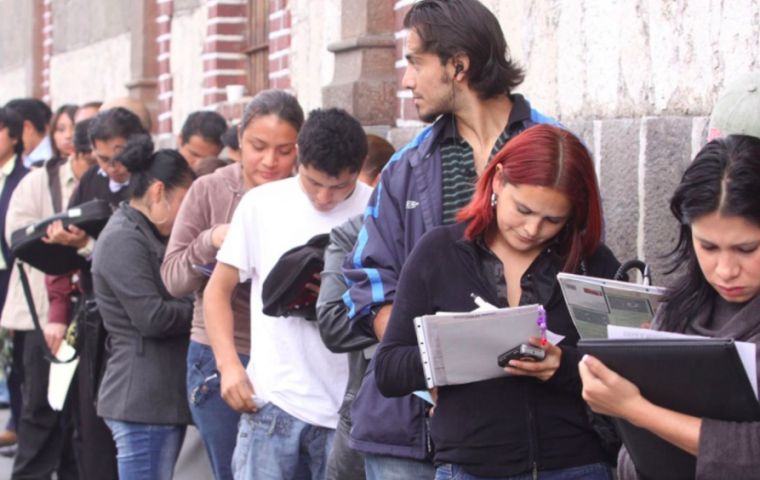 Public sector jobs have soared in recent years in Argentina, and from a relation of 42 every 100 registered workers, white and blue-collar, back in 2012, it has jumped to 55 currently. This means that in the 2012/2017 period, the creation of government-paid jobs was larger than the overall employment in the Argentine economy.
According to the Argentina Institute of Fiscal Analysis, IARAF, following the 2018 economic collapse and the pandemic in 2019, government contracting again took off, sustainedly, while in the private sector destruction of jobs continued.
IARAF points out that although government jobs tended to slow down beginning in 2016 (under president Mauricio Macri) they never ceased to grow except for a short period in 2018. In effect, in 2012 the number of government jobs (at all levels, federal, provincial, municipal plus other entities) was 2.712.800, reaching 3,213.000 in 2020, equivalent to a 26% growth in eight years.
The IARAF paper also indicates that in that period, government employees increased as a percentage of the overall work force, from representing 23,4% to 27,3% in April 2020. Likewise in 2012 private sector registered employees totaled 6.068.500, equivalent to 55,7% of overall registered employment.
However given the slowing down of the Argentine economy with no growth since 2012 and recession in 2018, has meant that in April 2020, the overall private sector employment stood at 5,807,200, that is 261,000 less than in 2012 and with an overall participation of 49,3%.
But given the pandemic, quarantine and erosion of economic activity, the destruction of jobs in the private sector continues. As a consequence the number of government jobs during April increased 0,9% year on year, while all other activities suffered a serious contraction.
However, "It is understood that in the current crisis context there is an increase in government employees to reinforce and improve the sanitary and security conditions to help combat the pandemic", concludes the IARAF report.