Falklands' Yorke Bay, a coastline reborn following the clearance of mines
Wednesday, July 29th 2020 - 10:47 UTC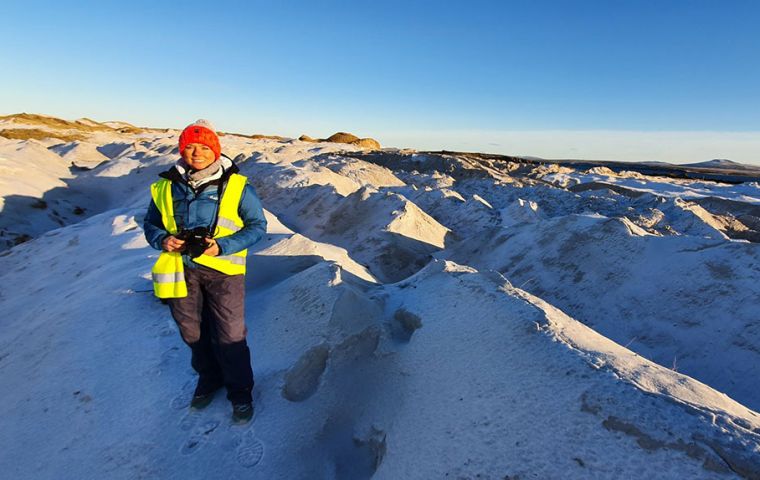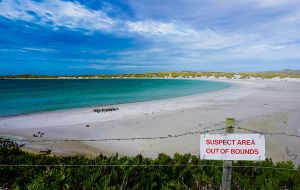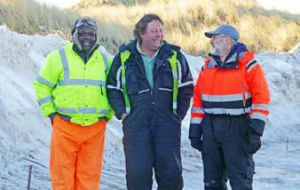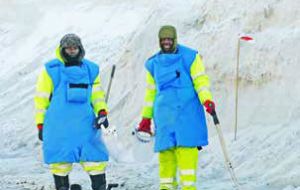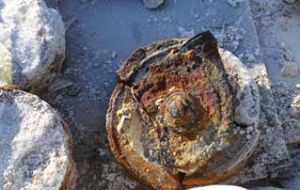 She born and raised in the Falklands in a family long established in the Islands, and belongs to the first generations of Islanders who went to university, helping to transform a lethargic sheep-farming colony into a vibrant, proud community with a vigorous sense of self-sufficiency and country spirit.
As a teenager, in the family's farm, Lisa outlived the 1982 Argentine invasion and occupation of the Falklands, plus routine patrolling from the invaders, and thus is forever grateful to the British Task Force sent to liberate the Islands.
With the conflict over, the challenge was to rebuild the Islands, reposition the economy and care for all those left with emotional sequels from the invasion.
But a deep physical scar of the Argentine invasion presence remained for decades, the thousands of mines, anti personnel and anti tank, planted by the withdrawing forces mainly around the capital Stanley.
It was only recently that expert deminers from Zimbabwe have cleared and recovered most spaces in a several stages plan. One of those stages includes Yorke Bay, a magical beach which had been for generations a leisure area for the residents of Stanley, and has been out of bounds since the invasion.
In the following piece Lisa tells us how dear and full of memories Yorke Bay is, and how overwhelmed with emotion and appreciation she is for what is going on both as a proud Islander and as a journalist.
As a journalist Lisa was invited by the Falklands' demining program manager Guy Marot for a tour of Yorke Bay and to witness of the latest operations of the final clearance, which is expected to conclude next October.
There are many facets to the beauty of Yorke Bay, the white beach that stretches along the coast east of Gypsy Cove outside of Stanley, but one of its most fascinating is its ever-changing sandy topography. Generations of Islanders once enjoyed walking or horse riding amongst sand hills or flat sands that changed shape on a daily basis depending on wind direction and speed. How much fun is a playground that magically changes its face each time one pays a visit?
Topographical shape shifting unfortunately ceases to be a game and becomes a potentially deadly challenge when one's role is to remove explosive ordnance from the depths of the sands of Yorke Bay.
Falkland Islands Demining Program Office (DPO) Program Manager Guy Marot took me on a tour of Yorke Bay, where Safelane Global are nearing the end of their demining work.
Mr Marot explained that the challenge of clearing the middle area of Yorke Bay is that in 1982 part of the area where mines were laid was subjected to the tides, and mines were moved around by the sea.
"Since then significant depths of sand have been blown onto the area and formed dunes up to 7m deep."
As such the only way to be certain that there are no mines in that area is to find the '1982 layer' and sieve every cubic meter of sand where the mines might be.
He explained: "This is done by firstly confirming the depth required, then removing the top layer of vegetation in which no mine could be found and then, using excavators fitted with a hydraulic sifting bucket, sieve all the sand and confirm that all items that cannot pass through the sifter are safe."
This process is carefully managed by SafeLane Global, and heavily audited and inspected by the Demining Program Office, to ensure that no volume of sand that could conceal a mine, the size of half a tin of baked beans, is missed during the clearance of approximately 240,000m3 (or about 385,000 tons) of sand in the Bay area alone.
With the project at a point where Armored Excavators are in use, eight Falklands residents have been hired to operate the machinery.
Darrel McGill, Justin East and Keith Heathman each operate an excavator with a large sifting bucket that digs away from the machine, hence pushing any potential mine away from themselves.
As explained earlier all the sand is sieved and any vegetation is dropped onto a witness board where a Deminer inspects for explosive ordnance. 22 mines have been found in the area. And while the excavator and the bucket look reassuringly sturdy, the mines are anti-tank after all.
But the operator Darrel, and the Deminers Thomas and Admire don't seem the slightest bit bothered by this worrying state of affairs. In fact they seem less interested that the bucket could explode at any moment and more amused by my not wearing wellies to visit a wet beach.
Mr Marot told me that originally the plan had been for Minefield 14 only to be included in the project as Minefield 13 had been shown cleared in 1982.
Further detailed research by the DPO and SafeLane threw some doubt as to how effective that clearance had been, as mines had been seen 250m forward of area 14 that could not be readily explained by them having been moved by drainage runoff water, explained Mr Marot.
The Foreign and Commonwealth Office confirmed that there would have to be a survey to establish the presence of mines and if found the entire 60,000 square meters would require searching.
A mine was found during the survey and a further 21 have been discovered while processing the area since.
This of course was quite a task.
On the vast area of sand where we stood each machine cut a swathe of about 6-7 meters wide from west to east, lane by lane. "Three teams of excavators follow this straightforward simple process going right to left to the sea, so every square meter gets processed," he explained.
The ground is left quite rough "not too structured; we allow nature to sort it out," a situation known as 'benign neglect'.
At the same time however it has to be left in a reasonably safe state so the very deep ditches will be filled to the extent that somebody on a 4-wheeler won't end up in a terrible accident.
But how long it has all taken, I asked. From where I stood the task seemed like an endless one.
This particular part of the project began at the end of December with preparations by Safelane and it should end in mid-October but that will depend on the behavior of machinery, said Mr Marot.
How you will know you have covered all of the ground, I wondered.
The ground was bumpy and churned with lines of sticks with tapes tied to the end. We had walked down one line of sticks and it had been explained to me that on one side of the sticks I was perfectly safe – it had been checked – but only a few meters to my right, the sand had not yet been checked.
It was a testament to the confidence that Falklands residents have in the professionalism of the demining companies and the Zimbabwean deminers that despite my proximity to the unsearched sand, I felt not even a moment of nervousness.
All work is carefully surveyed to an accuracy of about 5cm explained Mr Marot. "If we can find mines in their absolutely original position then that's key information as it confirms their depth in the ground in relation to the 1982 level. The difficulty is that as you dig the mines out, you have to estimate exactly where the mines are which means that the excavators have to dig around 50cm deeper than the mines to ensure no possibility that any could be missed. But in other minefields you will find mines in very specific positions that are detailed on the Argentine and UK records.
"Once cleared the mines found can then be checked against records which is a key part of the decision- making process and allows John Hare, the SafeLane Technical Director, to declare the area clear and for me to complete independent quality control checks of their work and to sign the Completion Certification."
All of the area is surveyed and updated every day by Dave Clarke, their surveyor, he said, and it was critical because a significant piece of work was for the project to provide the evidence "to you the public to demonstrate that we have done the job properly and nothing has been missed and there is nothing in the process that allows items to be missed."
My tour of the area finished with a walk on the breathtaking main beach – and a glance from a distance at the Gentoo penguin rookery.
And it is this area that Stanley residents and visitors to the area will truly benefit from visiting and soon they will be able to.
The view really is something to behold – the almost never ending gently sloping beach with quietly lapping waves and spiky sand hills behind. The sweeping sands to the East and also rolling in a crescent moon West towards Gypsy Cove.
It's a place I never thought I would have the opportunity to appreciate again in my lifetime and that was something I was absolutely resigned to.
I certainly didn't want anyone to be injured simply so that I could walk on white sands or see the sun set over a specific horizon – I could do that anywhere in the Falklands right?
But the truth is I was absolutely overwhelmed with emotion and appreciation and right now, despite my trade as a journalist, I simply do not have the words to express the degree of gratitude to the people who have given me back this beautiful piece of my country.
Lisa Watson - Penguin News