Falklands targets a 3% yearly population growth and doubles permanent residence permits
Saturday, August 8th 2020 - 08:00 UTC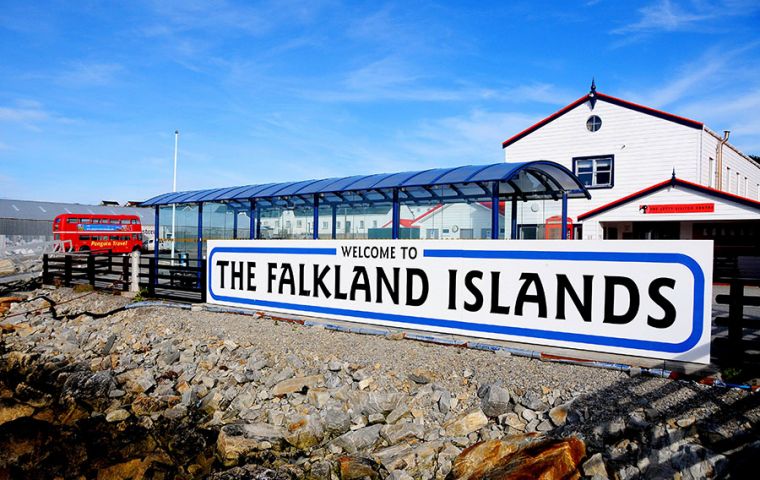 The Falkland Islands Executive Council has agreed to double the yearly quota of permanent residence permits (PRP) to 90. According to a paper published last week, the figure has been set to target a 3% yearly population growth.
ExCo also agreed to change the way in which PRP applications are considered, so that decisions are made on a monthly basis rather than a quarterly basis. According to the ExCo paper, the number of PRPs issued has increased steadily over the last four years, from 32 in 2016-17 to an expected 55 in 2019-20 (the PRP year runs from September to September).
The paper notes the Island plan goals to "encourage contractors and their families to make the Falkland Islands their home" and "train and retain existing workers, and attract new workers in areas of skill shortages."
The current quota, the paper goes on to argue, "works directly against growth in the permanent working population of the Falklands."
The finally proposes that the figure is reviewed annually, noting that setting a quota is a matter of policy for ExCo to decide, not one that requires changes in the law. Nevertheless, the paper also points out that the quota may need to be reviewed in light of the forthcoming proposed legislative changes to the PRP point system and recommends that it is reviewed on an annual basis to ensure it remains appropriate.
Changes proposed in the paper also include an additional five points to be awarded for applications that include children under 16 who have been resident for a minimum of three years.
"There are currently no additional PRP points awarded for applicants with young children. Should the Falklands wish to build a youthful, growing and committed population, families with young children are the demographic that FIG should be encouraging to apply," reads the paper.
The paper further goes on to argue that the change will "enable the Islands' permanent population to grow as the economy requires it to, a growth in population based on families with children who will offer the age demographics required to ensure economic stability in the future"
Changes to the quota system and approval schedule are set to be effective immediately, whereas the changes to the points system will be confirmed when wider changes to the PRP points schedule in the Immigration Amendments Ordinance are approved by Executive Council.
Records show that in the last 9.5 years, 323 PRPs have been issued, the majority of which have been to British nationals (including St Helena) (144), Chilean nationals (76), Filipino nationals (39), and Zimbabwean nationals (17).
Figures also show that since 1996, there have been 158 PRP holders who have taken up Falkland Island Status. (Penguin News)