Senator Kamala Harris completes the Democrat ticked with Biden and could be decisive for black voters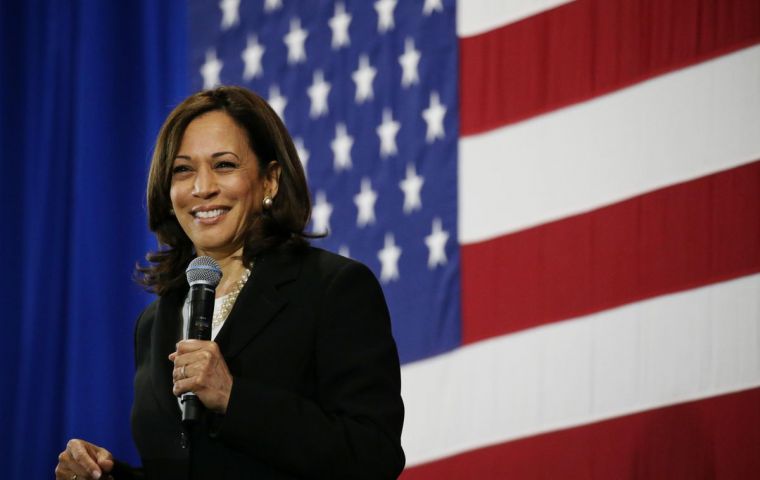 Democratic presidential candidate Joe Biden picked Kamala Harris as his running mate on Tuesday, a landmark pick that puts the senator in contention to become United States' first female and first black vice-president.
The daughter of an Indian mother and a Jamaican father, Harris is also the first Asian-American on a major presidential ticket. She was the first black woman elected as California's attorney general, and only the second black woman, and the first woman of South Asian heritage, to be elected to the US Senate.
With social unrest over racial injustice rocking United States for months, Biden had been under increasing pressure to select a black woman as his running mate.
In Harris, a 55-year-old senator from California who made her own run for the White House, Biden gains an experienced politician already battle-tested by the rigors of the 2020 presidential campaign as they head into the final stretch of the Nov 3 election.
Biden on Twitter called Harris "a fearless fighter for the little guy, and one of the country's finest public servants". Harris wrote on Twitter that Biden could "unify the American people because he's spent his life fighting for us".
Biden and Harris will appear together on Wednesday at an event in his hometown of Wilmington, Delaware, the campaign said.
Harris will be relied on to help mobilize African Americans, the Democratic Party's most loyal constituency. Four years ago, the first dip in black voter turnout in 20 years contributed to Democrat Hillary Clinton's upset loss to Trump.
Biden, whose foundering campaign was rescued by black voters in South Carolina's primary in February, needs their strong support against Trump. They will be crucial in battleground states such as Michigan, Pennsylvania and Wisconsin, where Trump narrowly prevailed in 2016, as well as Republican-leaning southern states like Georgia and Florida that polls show have become competitive this year.
Biden served as vice-president for eight years under President Barack Obama, the first black US president.
Numerous black leaders, including politicians who had themselves been considered as Biden's running mate, emphasized the historic import of Harris' selection.
"To see a black woman nominated for the first time reaffirms my faith that in America, there is a place for every person to succeed no matter who they are or where they come from," said US Representative Val Demings, a black woman who had been a contender.
Obama, perhaps the party's most popular figure, praised Harris on Twitter: "She's spent her career defending our Constitution and fighting for folks who need a fair shake."
The Biden campaign notched its best grassroots fundraising day following the announcement, according to one of its digital directors, Clarke Humphrey.
Republicans immediately tried to portray Harris as a "radical" who embraces far-left priorities such as sweeping police reform and a ban on fracking.
During a White House briefing on Tuesday, Trump called Harris "the meanest, the most horrible, most disrespectful" and "most liberal" senator and said she was his "No. 1 draft pick" given her unsuccessful presidential campaign.
On a conference call the Trump campaign hosted for reporters, Republican Senator Marsha Blackburn asserted that Harris supports eliminating private insurance in favor of Medicare for All and said her selection reflects the "leftist takeover" of the party.