Removal of Peruvian president depends on his greatest adversary and head of opposition, Keiko Fujimori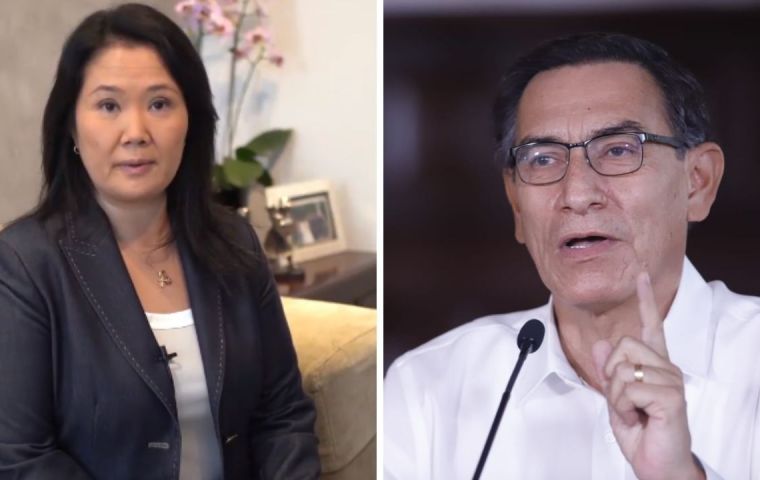 The Peruvian opposition leader Keiko Fujimori, the greatest adversary of President Martín Vizcarra, rejected this Sunday the motion to remove the president and urged Congress to act with "prudence".
"Until today there are not enough elements or necessary procedures to vacate the president from the Executive," Fujimori said in a video posted on social media.
Congress will vote on Vizcarra's dismissal on Friday, after initiating a process for allegedly having urged two advisers investigated to lie in a case of alleged irregularities in the contract of a singer, according to audios released last Thursday.
If he is removed, power would be assumed by the head of Congress, Manuel Merino, who was also in the eye of the hurricane for having sought support from the military leaders to push the motion against Vizcarra.
The surprise political crisis, unleashed in the midst of the coronavirus pandemic, has had harmful effects on the Peruvian economy, which is in recession. The dollar rose and the stock market and Peruvian bonds fell abroad.
The eldest daughter of former president Alberto Fujimori (1990-2000) and head of the opposition Popular Force party (populist right), pointed out that removing a president is an extreme measure that is adopted after having exhausted all other avenues.
"If other additional elements appear along the way that show us that this measure is indispensable, we will not hesitate to support it. Until this happens, we must exhaust other possibilities," she stressed.
Keiko, a two-time presidential candidate who spent more than a year in preventive detention as part of the investigation into the Brazilian Odebrecht scandal, said that "Peru faces difficult times with the pandemic and the economic recession, so Congress must act with prudence".
The broadcasting of the audios led six of the nine parties represented in Congress to demand the removal of Vizcarra, who assumed power in March 2018 after the resignation of Pedro Pablo Kuczynski, of whom he was vice president.
Vizcarra, who lacks a party and bench, will appear before the plenary on Friday to offer his discharges, after which the 130 legislators will debate and proceed to vote on whether or not to remove him due to « moral incapacity. »
To declare the presidential vacancy, 87 votes are required. With 15 legislators, Fuerza Popular is the fourth bench in the fragmented Peruvian Congress, after having lost the hegemony won a year ago in 2016, when Vizcarra constitutionally dissolved parliament amid clashes with Fujimori.
Keiko's party promoted two impeachment motions against Kuczynski, which led to his resignation in 2018. The decision to bring Vizcarra to impeachment trial was adopted last Friday by Congress with 65 votes, 36 against and 24 abstentions.
Vizcarra, 57, has had high popularity ratings in his two and a half years in power, which was reflected on Friday night in a cacerolazo (pots and pans banging) in Lima in his support.