US economy grew 33,1% in Q3 on trillions of relief, but 23 million Americans still on unemployment benefit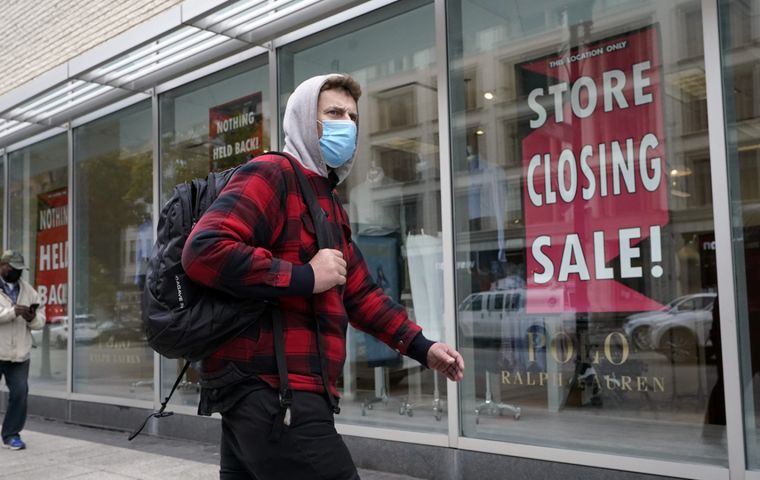 The U.S. economy grew at a historic pace in the third quarter as the government injected more than US$ 3 trillion worth of pandemic relief which fueled consumer spending, but the deep scars from the COVID-19 recession could take a year or more to heal.
The 33.1% annualized growth rate reported by the Commerce Department on Thursday, the last major economic scorecard before next Tuesday's presidential election, did not ease the human tragedy inflicted by the coronavirus pandemic, with tens of millions of Americans still unemployed and more than 222,000 dead.
The economy remains 3.5% below its level at the end of 2019 and incomes plunged in the third quarter. Nevertheless, with four days remaining to Election Day President Donald Trump, trailing in most national opinion polls, cheered the report.
"Biggest and Best in the History of our Country, and not even close," Trump wrote on Twitter. "So glad this great GDP number came out before November 3rd."
Trump's Democratic challenger Joe Biden highlighted the lack of full recovery and the rapidly petering growth spurt.
"We are in a deep hole and President Trump's failure to act has meant that third-quarter growth wasn't nearly enough to get us out of (it)," said Biden. "The recovery that is happening is helping those at the top, but leaving tens of millions of working families and small businesses behind."
According to Christopher Way, an associate professor of government at Cornell University, the report "will have absolutely zero effect on the election and it is economic performance in the first half of an election year that matters."
The rebound in GDP followed a 31.4% rate of contraction in the second quarter, the deepest since the government started keeping records in 1947. On a year-on-year basis GDP jumped 7.4% last quarter after sinking 9.0% in the April-June period. The rebound reversed about two-thirds of the 10.1% drop in GDP in the first half. By comparison, the economy contracted 4% peak to trough during the 2007-09 Great Recession.
The government's rescue package provided a lifeline for many businesses and the unemployed, juicing up consumer spending, which on its own contributed 76.3% to the surge in GDP.
But government funding has been depleted with no deal in sight for another round of relief. New COVID-19 cases are spiraling across the country, forcing restrictions on businesses like restaurants and bars.
A separate report from the Labor Department on Thursday showed initial claims for state unemployment benefits fell 40,000 to a seasonally adjusted 751,000 in the week ending Oct. 24. Including a government funded program, 1.1 million people sought unemployment benefits last week.
Though claims have dropped from a record 6.867 million in March, they remain above their 665,000 peak seen during the 2007-09 Great Recession. About 22.7 million Americans were receiving unemployment benefits in early October, though many have exhausted their eligibility for state aid. Just over half of the 22.2 million jobs lost during the pandemic have been recouped.
Consumer spending, which accounts for more than two-thirds of the U.S. economy, rebounded at a historic rate of 40.7% in the third quarter, driven by purchases of goods like motor vehicles, clothing and footwear. Americans also boosted spending on recreation, healthcare and dining out. But spending on services remained below its fourth quarter level.
Spending was boosted by billions of dollars in government transfers, including a US$ 600 weekly unemployment subsidy and a one-off US$ 1,200 check to households. Growth estimates for the fourth quarter are below a 5% rate.