Paraguay admits transexual lawyer into bar after a five-year dispute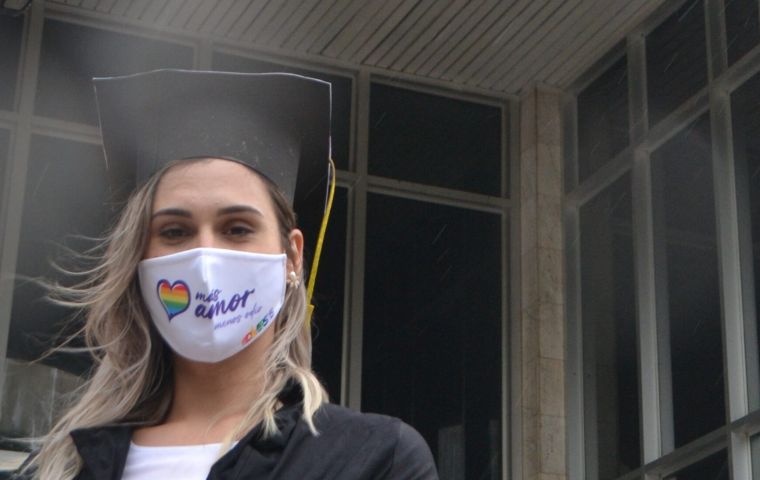 Paraguay's Supreme Court Chief Justice Alberto Martínez Simón Monday took the oath from female transexual lawyer Kimberly Ayala to enter the professional registry after being denied her right twice on the grounds that her ID name did not match her physical appearance.
Ayala, who completed her law studies at the Universidad Nacional del Este (UNE) in 2015, became the first transgender person to be sworn in as a lawyer, following a five-year legal battle as she refused to practice her profession under her birth male name.
"I have the criterion that article 25 of the National Constitution is too clear and says that each person can manifest and create their own identity in the way that they freely want to exercise it and therefore a person can come dressed as a woman if they feel like it. I do not find any legal impediment to denying the right to the oath to a person who has finished their studies," said Martínez Simón in a radio interview.
"The important thing now is to determine all the variables to later avoid complications in similar cases," he added.
Ayala thanked the individuals and organizations that helped her reach her goal and supported her cause and underlined that her case will remain as a precedent for the trans population and even as an example that everyone can study, be professionals, and work without discrimination.
She admitted she understood that her legal name would not disappear from the records, but requested that the photo of her professional license be of her current image since failure to do so would constitute a violation of her rights to her identity.
"I am going to start working and give a voice to other people. I would like to be a magistrate. This was my third attempt at taking the oath and I am very happy to do so. This is an example that we can get here, expressing our personality because the Constitution guarantees us [this right]," Ayala explained.
Scores of feminist and LGTBI + activists raised their voices on social media in support of Ayala.
Amnesty International (AI) Director Rosalía Vega said that justice had been served and added that the Supreme Court had issued a very important message to the public. "This is a historic step for the LGBT community and today we are very happy to share it," Vega stressed.