Falkland Islands penguins' catastrophic moulting and how you can help them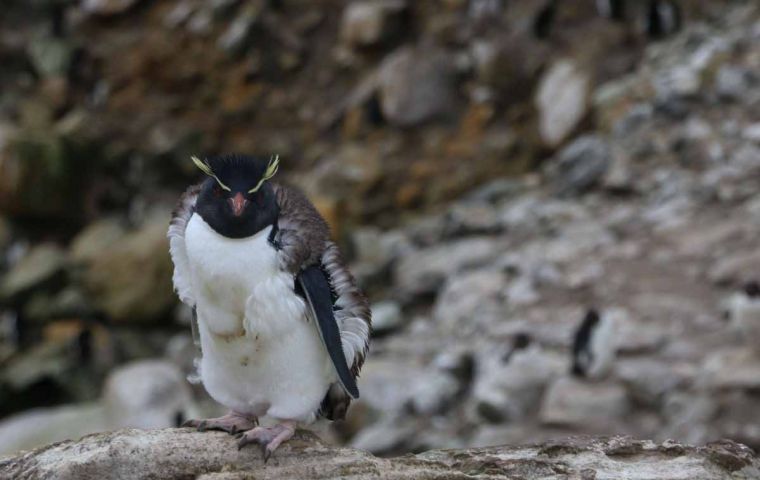 Falklands Conservation has illustrated that unlike all other birds, penguins go through what is called a "catastrophic" moult. For the penguin it is probably as bad as it sounds. Every penguin must moult once a year, normally between December to March, by drastically shedding all their feathers and re-growing new feathers in one go – hence the "catastrophic."
To do this penguins come ashore to moult over a 3-4 week period; they are unable to go to sea to feed and sometimes restricted to their water intake. Not only do they feel discomfort, with the skin itchy and swollen as new feathers grow through, they are at their most vulnerable.
If a penguin could, it would choose to moult in a quiet and safe environment, however this is not always the case, and penguins often use beaches or inland areas to moult that may not be very suitable, such as popular recreational beaches, near to roads or even in car parks.
If you do come across a moulting penguin then you should follow the Countryside Code and keep yourself, others, dogs, horses and vehicles at least 6 meters away. The only time a moulting penguin may need assistance is if it is in an unsafe environment or being unnecessarily disturbed.
Likewise, if you come across any wildlife that may need assistance (e.g. oiled, injured or in an unsafe place) the relevant organizations can help by assessing the situation for the best outcome of the animal's welfare. Do not try to handle a wild bird yourself unless there is a clear immediate threat or you are in a remote location and you cannot get hold of appropriate advice. It is important to remember that handling a bird incorrectly can cause unnecessary stress or injury to the bird as well as a risk of injury to yourself.
The wildlife of the Falkland Islands is amazing, and a cornerstone of the way of life and the livelihoods of those that live here and no one wants to be responsible for harming or causing unnecessary stress. Some key points to remember are: If you are too close to a moulting penguin this will cause additional stress during a vulnerable period, and at worst it may try to escape to the sea which could lead to potential hypothermia or even drowning if the feather are not properly developed.
Low flying aerial vehicles such as drones, kites, etc. may stress or panic animals as they will perceive them as aerial predators. Humans appear as predators to wildlife, even when that is not our intention. If you are too close, noisy or erratic this will be interpreted as danger.
If you are concerned about how your activities might be affecting wildlife then a copy of the Countryside Code is available to download from the FIG website. If you come across any wildlife that needs assistance please call Falklands Conservation on 22247 during the daytime, an FC staff member after hours or the Veterinary Department after hours on 55366.
Falklands Conservation (Penguin News)