Falklands strict conditions to ensure "clean" vessels operate in the 2021 fishing season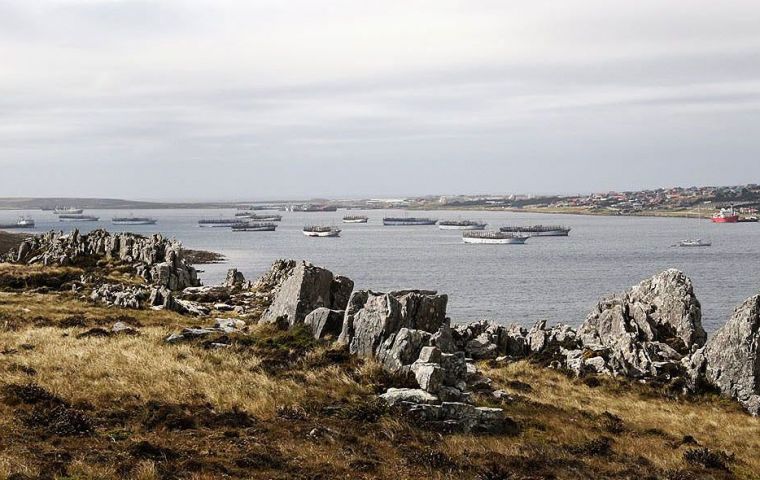 The Falkland Islands government issued a release on Tuesday announcing the "clean" conditions vessels entering territorial waters for the 2021 fishing season must meet, basically a minimum of two weeks quarantining at sea, no Covid-19 cases on board, and no crew members with Covid-19 symptoms.
The release establishes that "Prior to the start of the 2021 fishing season, the Falkland Islands Government understood that the fishing industry had implemented robust Covid-19 protocols across the fishing fleet to ensure that they could operate safely and meet the necessary public health requirements.
"Each company has its own set of policies to mitigate the risks presented by the pandemic, including pre-departure quarantine measures followed by testing, regular onboard testing and temperature checking during transit and use of PPE as required.
"Prior to entering Falkland Island territorial waters each vessel is required to make a formal medical declaration that they are 'clean.'
The definition of a 'clean' vessel means that they must meet the following conditions:
• Spent a minimum of two weeks quarantining at sea
• Do not have any crew members demonstrating symptoms
• Do not have any known cases of Covid-19 on board

"Dr Andrea Clausen, Director of Natural Resources, said: "We appreciate the combined efforts of FIFCA and partners in helping to manage and mitigate the risks associated with Covid-19. We have been working closely with the industry to ensure that our community remains protected and that fishing crews are only able to operate if they are fit and well.
While our fisheries are vital to the economy of the Falkland Islands, our priority remains keeping our population safe. This means that all vessels coming into the harbour in the coming weeks will only have 'clean' crew aboard."