Third-time lucky: Lasso becomes Ecuador's president-elect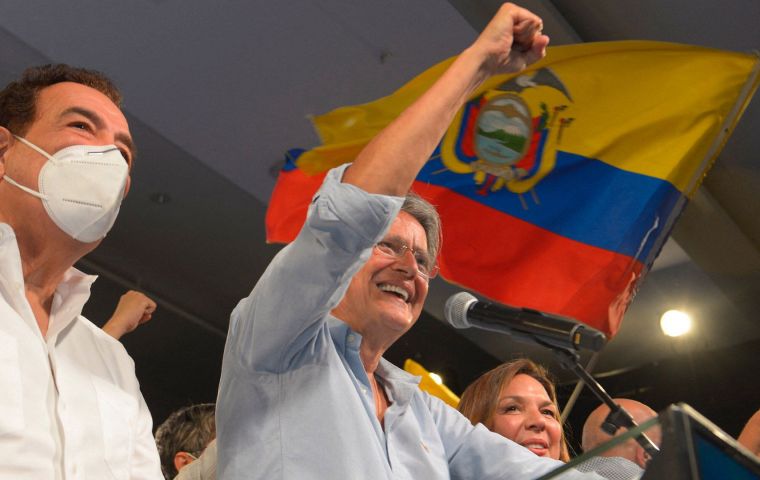 Contrary to expectations, Guillermo Lasso Sunday surprisingly beat Andrés Arauz to become Ecuador's next president. Lasso, a conservative, was a sure winner in the evening as 97.91% of the votes were counted.
Provisional results gave Lasso from the CREO movement a 52.49% to 47.51% victory over Arauz, of former President Rafael Correa's Unión por la Esperanza (UNES).
Lasso, 65, has served as Economy Minister under President Jamil Mahuad in the late 1990s when the financial and inflationary crisis caused a banking panic that led Quito to adopt the US dollar as its official currency.
He first ran for president in 2013, losing to Correa and again in 2017, when he was beaten by current president Lenin Moreno.
Turnout was of 10,211,509, with 2,116,752 absentees. Null votes amounted to 1,660,767 in addition to 163,912 empty (blank) votes. In 2017, Moreno won the second round, by 51.16% to 48.84%.
Arauz, whose candidacy had been backed by Correa, has already admitted defeat and described the outcome as an "electoral setback," having reached 32.72% of the votes in the first round when Lasso barely made the cut, edging the indigenist Yaku Pérez by 19.74% to 19.39%.
Lasso, who is said to have ties with the ultra-Catholic Opus Dei movement, is a marketed-oriented economist who favours downsizing the State, cutting down expenses, privatizations and welcoming foreign investments...
First to congratulate Lasso on Twitter were the presidents of Colombia, Iván Duque, and of Uruguay, Luis Lacalle.
Lasso, of the centre-right Creo-Social Christian Party (PSC) alliance, delivered a victory speech from the city of Guayaquil. He called for 'joint work' and downplayed allegations of exit poll fraud and promised a change "to get Ecuador out of the current problems."
For his part, Arauz anticipated his political force now "begins an arduous but necessary stage."
"Today is not the end, it is the beginning of a new stage of popular power," said Arauz. "Thank you all for your support. We honestly believed we were winning, but our projections were wrong. Good luck to Guillermo Lasso, his success will be that of Ecuador. I only ask you to stop the lawfare, which destroys lives and families," he added.