Former white policeman guilty of murdering black man in racial case which sparked unrest in US - President Biden "relieved"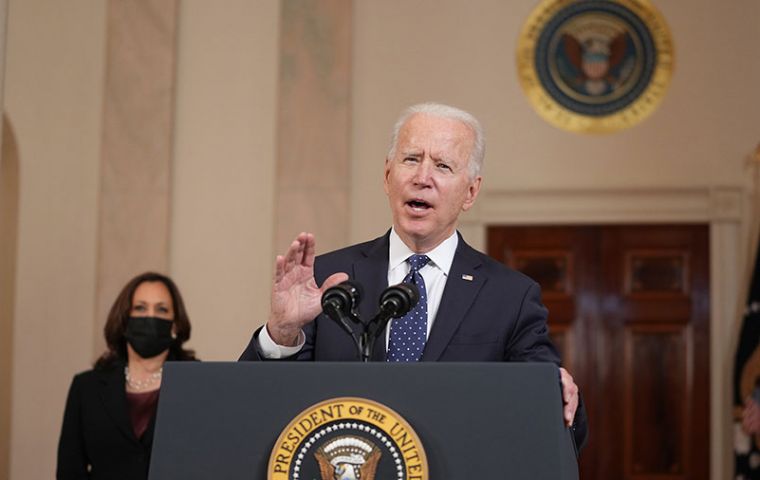 Former Minneapolis police officer Derek Chauvin was found guilty on all counts Tuesday by a jury of his peers for the killing of George Floyd in an incident that sparked racial violence all across the United States in 2020 leading up to the presidential elections. Chauvin is white; Foyd was black.
"All three counts! All three counts!" crowds chanted as they waved Black Lives Matter (BLM) flags and signs that read "Justice for George Floyd." Chauvin was convicted of second- and third-degree murder, as well as second-degree manslaughter. The exact sentence is to be passed in eight weeks, but it is believed that it could be of up to 75 years in jail. However if the judges decide that the the sentences are to run concurrently, Chauvin would serve a maximum 40 years in prison.
Chauvin, who had been free pending the outcome of his trial, stood up quickly after the judge ordered his bail revoked, his eyes darted left and right over his light blue surgical mask and compliantly placed his hands to be handcuffed before he was led out of the courtroom.
The jury rejected the defense claim that there might have been other medical reasons Floyd died. Judge Peter Cahill read the jury's verdict, finding the disgraced law enforcement agent guilty of murder by kneeling on the 46-year-old George Floyd's neck for more than nine minutes during the commission of a felony assault. In any case, Chauvin's crime prompted waves of protests in support of racial justice and against police brutality worldwide.
Floyd's brother, Philonise, was the only family member in court. He sat praying in the minutes before the verdict and was visibly shaking as it was announced. As the guilty verdicts were proclaimed, he closed his eyes and nodded his head repeatedly. "I was just praying they would find him guilty. As an African American, we usually never get justice," he said.
President Joseph Biden, Vice-President Kamala Harris and First Lady Jill Biden called videophoned the Floyd family after the verdict. "Nothing is going to make it all better, but at least now there is some justice," Biden said. "We're all so relieved," he added.