Uruguayan President: competition between countries must not prevail to fight covid-19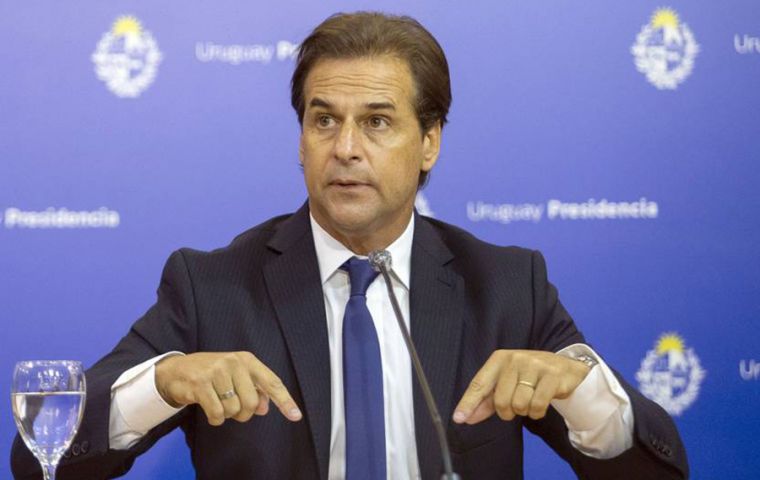 During his speech at the XXVII Ibero-American Summit of Heads of State and Government, which is held in Andorra although most participants make only video appearances, Uruguay's President Luis Lacalle Pou Wednesday launched an appeal to his fellow leaders to find new ways in the fight against the covid-19 pandemic.
Lacalle brought up the "failure of international bureaucratic institutions in the supply of vaccines," since "Ibero-America facing the challenge of the Coronavirus" was one of the Summit's subtitles. "This does not imply confronting or blaming, this supposes being prepared. That competition between countries and between nations must not prevail, where generally the most powerful are those that arrive first to be able to inoculate their citizens," he added.
"Borders have been left aside in this pandemic and surely it will be [case] in the future," he said. "Countries had to negotiate with laboratories and sometimes received assistance from other nations, such as Uruguay, China, and at the time, the first shipments from Chile," he added.
For Lacalle Pou "it is urgent to make decisions in the short, medium and long term for these organizations that make up a large part of the nations of the world so that they have sufficiently logical and adequate mechanisms for the reality that we can live."
Lacalle acknowledged that as a result of the pandemic, the economy was "heavily punished" and that the world has changed, changing the government's plans since "the needs of the populations today are different to the world we used to live in."
But "it cannot be the direct consequence that the protection of our peoples is transformed into protectionism," Lacalle warned. "Perhaps inertia will lead us to that, and that is why we must quickly think things over and put into practice through multilateral or bilateral relations this new birth of trade within the world," he added.
"For countries like Uruguay the world must be able to open up, in trade and complementary relationships, once again, power in this international trade to achieve the progress of our nations," Lacalle stressed as he called for wisdom on the part of the heads of government and state.
"The positive consequence of this virus must be the development of new strategies in this regard," said Lacalle, who understands, we must bet on "a world more open, more supportive, more united," he underlined.
The Uruguayan leader also demanded Venezuela's prompt return to a democratic path and said: "clearly, with a calm voice, but with the same firmness, and appealing to the opportunity that Mr. (Nicolás) Maduro or whoever represents him surely has, to tell him on behalf of our government that he must open the doors, the window, urgently to democracy."
But Venezuela's Executive Vice President Delcy Rodríguez replied that "those who speak of democracy have to respect the sacred will of the people of Venezuela who have chosen their authorities, who have decided their destiny within the framework of the principle of self-determination."