Chilean unions march to pressure Piñera into taking actions in favor of the neediest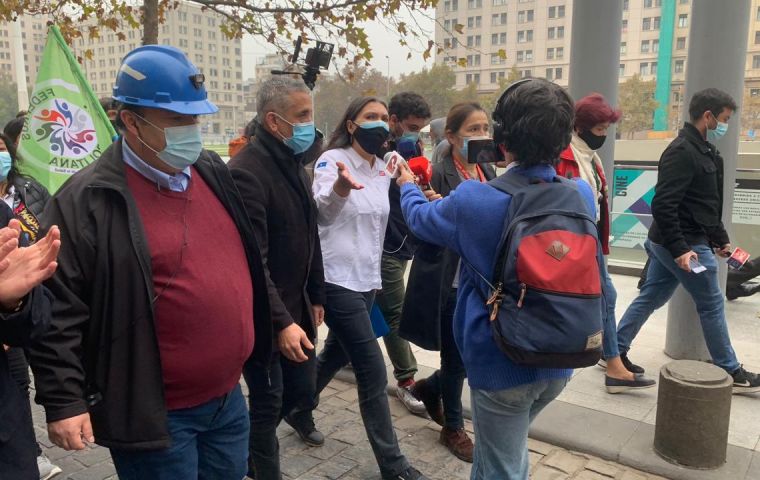 Chile's leading labour unions Friday marched through the streets of Santiago in demand of financial aid and other types of assistance. But despite wearing facemasks and holding permits to circulate under lockdown they were halted at the gates of the La Moneda presidential palace when they tried to deliver a letter addressed at President Sebastián Piñera.
CUT (United Confederation of Workers) leader Barbara Figueroa headed the demonstrations and was eventually let into the presidential building. But she insisted: "Either we all go in or none of us does."
Figueroa added that "we are all representing our unions, including teachers, the metro workers, Walmart supermarkets, teachers and medical personnel. We need the president to receive our petition."
As she spoke, police suddenly began arresting a dozen of the union leaders and putting them into vans to be driven off to the nearest police station, accused of disturbing the peace in times of a pandemic.
It was a bad start for a national strike called by the CUT, which represents nearly 9 per cent of workers. They were joined by 35,000 state workers, including state television and CODELCO, Chile's most important mining company. Chile is the world's largest copper producer and exporter.
The letter, which was eventually delivered by Figueroa together with those who had not been arrested, outlines three key demands. "We warn the government not to ignore them: first, a health emergency payment of 500,000 pesos (the US $700) for all the unemployed; a minimum wage that is above the poverty line, and the freezing of food prices," Figueroa explained, while Piñera was meeting with leaders of both houses of Congress to discuss a new emergency aid package for Chileans.
Food kitchens have spread rapidly throughout the country since the pandemic began. Unemployment has climbed to nearly 11 per cent. But so far, the government's economic aid has proven inadequate and difficult to access because of excessive bureaucracy.
With the vast majority of the country still under compulsory confinement, the strike has had mostly a symbolic impact. Nevertheless, there were small marches and protests nationwide, which have reportedly persuaded Piñera to take action.
"Yes, we have an economic emergency now, with families who have nothing to eat. But afterwards, when the time comes to reactivate the economy, when there is a huge number of people desperately looking for work, that will present a breeding ground for abusive employers," Figueroa warned. "They'll want to offer even worse wages and working conditions. That is why we have to take measures now."