Covid-19 spreading even among Mount Everest climbers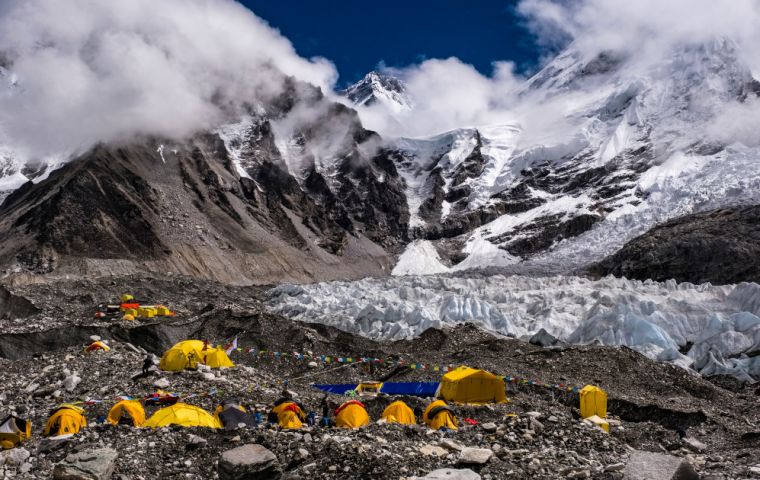 Despite a Nepalese Health Ministry warning last week that "hospitals have run out of beds," there is no cancellation of expeditions to Mount Everest insight.
The coronavirus pandemic has reached as high as those trying to rise above and climb to the top of the world. The New York Times Wednesday reported on how covid-19 is affecting mountaineers in one of the most isolated parts of the planet, or at least the adventure-touristic Base Camp located at 5.365 meters above the level of the sea.
According to the NYT, the coronavirus outbreak in Nepal is spreading "faster than almost anywhere else" and the number of climbers rescued from the Himalayas who have tested positive for covid-19 was also on the rise. Evacuations and airlifts to safety grow in number for people who become more vulnerable to the illness, due to lower blood oxygen levels and a resulting weaker immunity.
But those already willing to climb the Himalayas have accepted that not all of them come back every year, so covid-19 is not going to stop them in 2021, in addition to which Nepal's government is unwilling to affect its lucrative mountaineering industry after a total shutdown in 2020.
A total of 408 permits have been granted so far, according to the NYT, which is a record for the activity since the first recorded summit in 1953.
"Infections are exploding in Nepal, from fewer than 100 per day in early March to more than 7,500 on Tuesday," the NYT reported.
Residents in the capital city of Kathmandu have been reportedly deprived of basic health facilities even after testing positive for the virus, while strict lockdown measures have kept the general public confined indoors. And vaccination efforts have slowed down significantly.
Nepal's Tourism Department Director-General Rudra Singh Tamang, who had tested positive for the virus and was self-isolating. was quoted by the NYT as saying "expeditions won't be cancelled."
"Everest is an isolated area, so there's no risk of coronavirus," he added.