Does Colombian President Duque grasp the seriousness of the situation?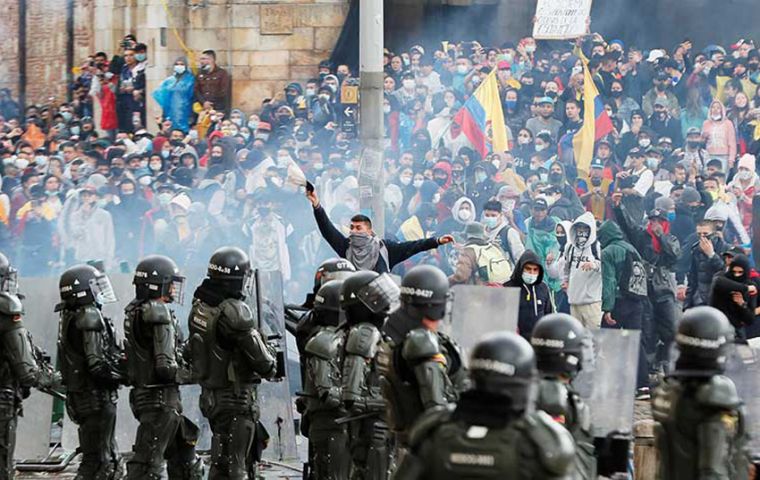 In a country where 24 people have died in clashes with police and some 800 have been injured, Colombian President Iván Duque woke up Wednesday and gave a radio interview during which he addressed this year's Copa America football competition, which his country is to co-host with Argentina, and guaranteed everything will go on as planned.
"We started a job for more than 2 years with former President Mauricio Macri, because the Cup was going to be held last year together with Argentina," Duque said as if nothing else was going on. No pandemic. No unrest.
Despite Duque suspending the tax reform and saying on Tuesday that he would open a national dialogue to find solutions to fiscal and other challenges caused by the economic impact of the coronavirus pandemic in 2020, the protests continued.
The call for national dialogue was similar to the one he made in 2019 – when the protests against police violence left dozens of death – and many civil society groups have said that discussion produced few results.
Duque, a conservative politician, has lost significant popularity since the pandemic began. A poll shows that 74% of citizens between the ages of 18 and 25 have an unfavourable image of Colombia's president, according to a recent survey by the firm Cifras y Conceptos. And analysts say he is at his weakest point since taking office in 2018.
About one year from Colombia's next presidential elections for which leftwing candidate Gustavo Petro, of Bolivarian allegiance, appears to be the frontrunner, police brutality and repression has left at least 24 people dead and as many as 800 injured as of Wednesday during protests against President Ivan Duque's proposed tax reform and other measures.
The Copa America is scheduled to start June 13 and the South American Football Confederation (Conmebol) is already making alternative plans for it to be hosted by Paraguay given the unrest in Colombia. And Colombian clubs playing continental competitions have already been forced to reschedule their "home" games to Paraguay.
Conmebol president Alejandro Domínguez is reportedly considering that if either Colombia or Argentina decide to withdraw from hosting the tournament, it will be offered to another country and Paraguay is the most likely option.
Cali is where most of the violence occurred. A team sent by United Nations Human Rights High Commissioner Michelle Bachelet experienced that first hand: "While we were monitoring the human rights situation in Cali, there were no direct shots at the UN Human Rights team. However, other members of the delegation received threats and attacks, as well as shots from the police, without anyone being hit," said Juliette de Rivero, Bachelet's representative in Colombia.
The Ombudsman's Office has received complaints about 89 alleged disappearances in addition to 19 already recorded violent deaths and 800 wounded.
Videos of police brutality went viral over social media and prompted reactions from all circles of life. Colombian singer Shakira considered it unacceptable that "a mother loses her only child" and she was very critical of the government for its violation of human rights: "The bullets will never be able to silence the voice of the one who suffers". And footballer Radamel Falcao García rejected on Twitter "any act that violates human rights and I call for non-violence."
Senator Petro has demanded Police Director General Vargas to "stop the repression" and insisted people were being murdered and massacres committed. The government has already admitted to 515 arrests, of which 47 are minors and 18 are Venezuelan nationals, whose immediate deportation has been demanded by the mayor of Cali. Firearms were also seized in large quantities as well as blades of different shapes and sizes, it was reported.
From day one, Cali became the epicentre of the protests and riots, which Duque has defined as "low-intensity terrorism." Between the roadblocks and the majority peaceful protests, the authorities blame FARC dissidents and criminal gangs for the attacks against security forces and vandalism. Among the casualties in the area was the young Nicolás Guerrero, cousin of Cali Mayor Jorge Iván Ospina.
"It is the social peak of a one and a half year pandemic in one of the most unequal countries in the world and which has just registered 42% poverty, boosted by a chain of errors from the Government, which, incomprehensibly, decides to submit a tax reform bill which is tough on the middle class and complacent with the richest," a protester told the media. The withdrawal of the tax reform bill or the dismissal of the Minister of Finance who drafted it, Alberto Carrasquilla, has not been enough and attacks may come in any form. The website of the Colombian Army was hacked earlier this week.