Butantan head points fingers at Bolsonaro for shortages of covid-19 vaccines
Friday, May 7th 2021 - 08:55 UTC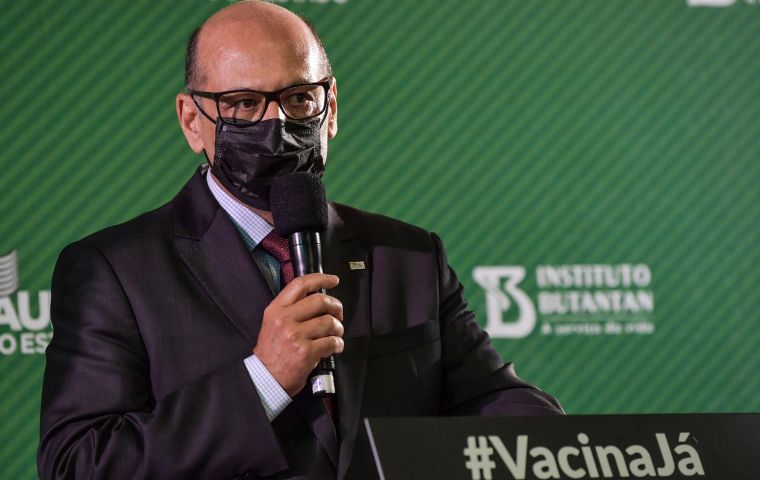 Butantan Institute Director Dimas Covas Thursday blamed President Jair Bolsonaro's anti-Chinese stance for the delay in the arrival and distribution of anti-covid-19 vaccines into Brazil.
"Obviously, these statements have an impact and we are at the mercy of that situation," said the head of the institution which is run by the state of São Paulo.
Bolsonaro had hinted on Wednesday that China manufactured the coronavirus as part of a "chemical and bacteriological warfare."
"The military knows what chemical, bacteriological and radiological warfare is. Are we not facing a new war? Which country registered the highest GDP growth? I am not going to tell you," Bolsonaro said. China was the only G20 member to experience economic growth in 2020.
"[Shipping] authorizations are being carried out at a much slower pace than they could be done" and "that worries us a lot," admitted Covas. "They may lack [supplies]. And we have to put that on the account mainly of our federal government, which is rowing against us," he added.
The delays occur at a time when Brazil registers more than 2,300 deaths per day on a weekly average and totals almost 415 thousand deaths, a balance surpassed only by the United States.
Butantan produces the Coronavac vaccine, from the Chinese laboratory Sinovac, the most widespread in the South American country. But the lack of supplies forced this week to postpone the application of the second dose in many states, due to a delay in shipments from China, Covas said.
Controversies with China along the same lines have already led to the dismissal of Foreign Minister Ernesto Araújo last month, while Economy Minister Paulo Guedes was caught on the camera saying that "the Chinese invented the virus", although he later apologized.
Ever since the beginning of the pandemic, Bolsonaro has been in confrontation with the São Paulo authorities regarding vaccines and restrictions to contain the virus, especially with Governor Joao Doria, one of his possible rivals in the 2022 presidential elections.
A parliamentary commission began an enquiry this week to determine the possible responsibilities of the government in the lack of control of the pandemic.
A World Health Organization (WHO) team has concluded that it was "extremely unlikely" that the Sars-CoV-2 had originated at a maximum-security laboratory in Wuhan.