Deadliest clash with police leaves 25 dead in Rio de Janeiro favela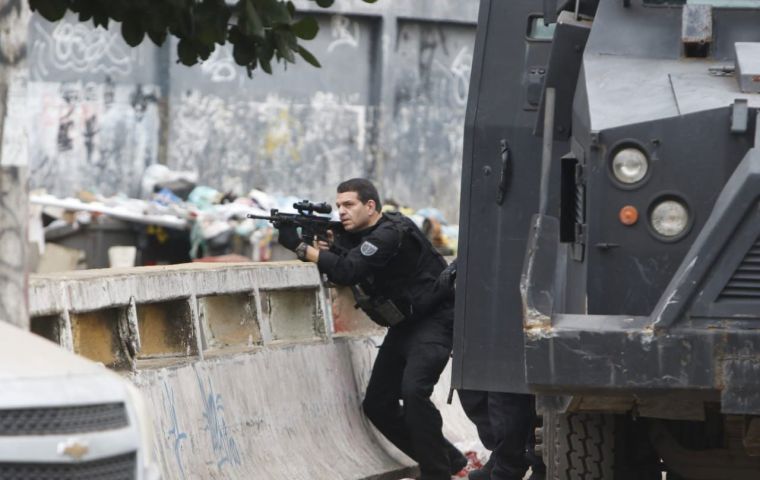 An anti-drug raid by Rio de Janeiro law enforcement agents Thursday left 24 suspects and one police officer dead in the precarious Jacareizinho favela.
It was the deadliest single police operation in the state of Rio de Janeiro and it came just days after April 27's clashes which resulted in nine deaths in three different favelas. Due to the coronavirus pandemic, the Federal Supreme Court (TSF) ordered in June 2020 to suspend police actions in the favelas, unless in "absolutely exceptional" situations.
Gunshots were first heard at around 6 am and fight grew fiercer as police backup arrived in the area, to enact what was dubbed "Operation Exceptis," a deployment of some 200 law enforcement agents, supported by armoured vehicles and two helicopters to delve into the alleged recruitment of children and adolescents for drug trafficking in addition to robbing lorries of their cargo and hijacking commuter trains to steal from passengers.
In addition to the dead, ten people were arrested on drug trafficking and murder charges. Three policemen were hit and one died of a head wound in the hospital, police said.
Jacarezinho became an urban war field, with few people circulating on public roads, shops closed as well as the medical centre where coronavirus vaccines are applied.
Neighbours of the favela blocked one of the gateways into their citadel at around 12 noon and one of them told Globo TV that the security forces have never respected them. The neighbour also said the agents "believe that they are in Iraq."
A subway passenger told Globo TV that "people began to run desperately" when the bullets hit the train they were riding as police officers blocked stations to cut off fleeing suspects, many of whom tried to escape across rooftops as police entered the slum in armoured vehicles and helicopters flew overhead. Bullets fired during the shootout struck a light rail coach and two passengers were hurt by shattered glass from the broken window, the fire brigade said.
"This is the largest number of deaths in a police operation in Rio, surpassing 19 at Complexo do Alemão slum in 2007, except we did not lose one of ours in that action," police chief Ronaldo Oliveira told Reuters.