Colombia: Duque announces disciplinary actions against those involved in brutal repression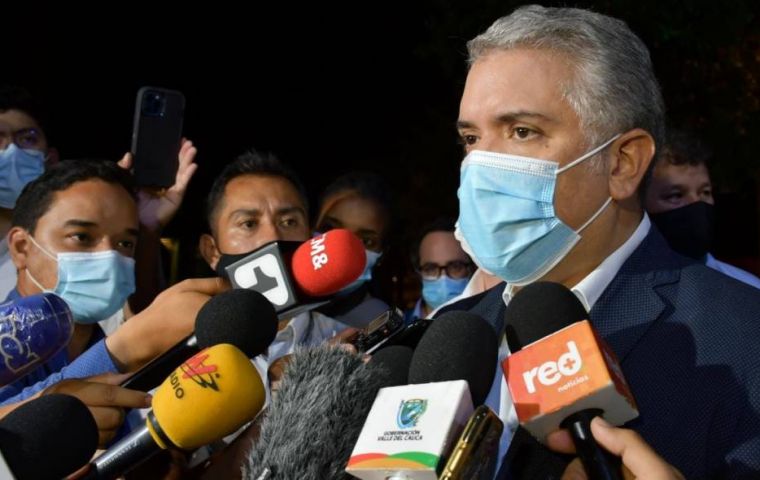 Colombian authorities have taken up disciplinary actions against 65 police officers for acts of brutality allegedly committed while repressing demonstrations against the national government's tax reform bill and which eventually escalated as human rights and other demands were added.
President Iván Duque made this announcement Tuesday from the southwestern city of Cali, which has been the epicenter of the conflict. Duque explained that of the 65 cases, "eight were for homicide, 27 for abuse of authority, 11 for physical assault, and 19 for other (mis)behaviors."
Several human rights organizations worldwide have denounced Duque for his actions and for that of the troops under him, which were caught on video and went viral over social media.
Among those pressing Duque to take action for what has happened were the United Nations (UN), the European Union (EU), and the Organization of American States (OAS), so that the right of the people to peaceful protest can be guaranteed.
Several non-government organizations (NGOs) have also requested the International Committee of the Red Cross be involved in the investigations to determine the extent of what has happened.
A total of 41 deaths have been confirmed so far in the two-week revolts. But even under such circumstances, protests were still active Tuesday and organizers behind the April 28 general strike have called for yet another similar measure for this Wednesday.
Troops loyal to Duque have arrested 667 people in the Cali for vandalism, 20 of them with a court order, and the 647 others after being caught "in flagrante delicto."
On a softer note, Duque also announced in Cali that students from public universities and institutions will not have to pay tuition for the second semester of this year, which was one of the items the protesters were demanding.