Datafolha foresees Lula would quash Bolsonaro in 2022 in a presidential runoff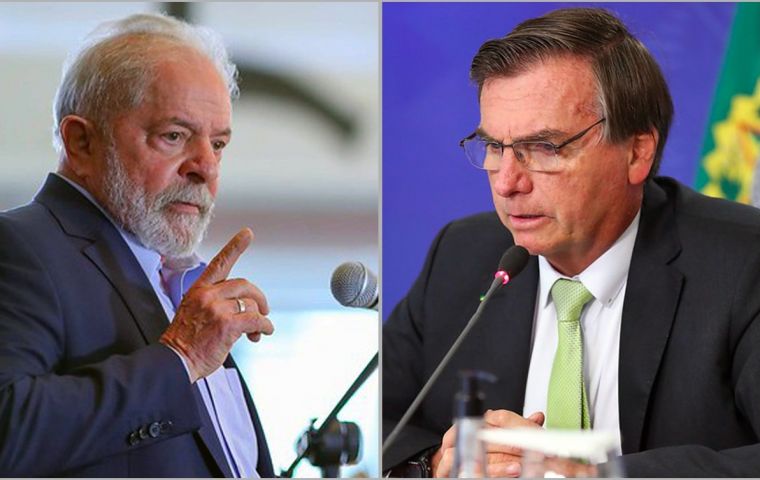 Former Brazilian President Luiz Inácio Lula da Silva would defeat the incumbent Jair Bolsonaro by a landslide if they both make it to the second round of next year's elections, a survey by Datafolha released Wednesday showed.
The study also revealed the founder of the Workers' Party (PT) would have no trouble overcoming other possible candidates such as Sergio Moro (the judge that sent him to jail for over a year) or the current São Paulo Governor Joao Doria, in the runoff.
According to Datafolha, Lula would beat Bolsonaro by 41% against 23%, followed by 7% by former judge Sérgio Moro, 6% by Labor Ciro Gomes, and 4% by television host and mogul Luciano Huck, from TV Globo.
And should there be a runoff, Lula's would get 55% of the votes against Bolsonaro's 32%, while 11% would vote blank or null and the remaining 2% did not respond to the survey.
Lula regained his political rights in March after the Supreme Federal Court (STF) court overturned his convictions. for one of which he was imprisoned for 580 days and unable to participate in the 2018 elections won by Bolsonaro. The STF found that Moro, who has served as Justice Minister under Bolsonaro minister, had thus shown he had personal and political motivations to sentence Lula and was therefore not unbiased on passing sentence.
The survey was conducted in 146 municipalities among 2,071 people.
Also Wednesday at the Planalto Palace In Brasilia, Bolsonaro insisted that "only God will remove him from the presidency," stating that the October 22 elections will not have transparency if a law is not approved to incorporate the printed vote into the electronic ballot boxes that Brazil has used since the nineties.