Datafolha says 49% of Brazilians support Bolsonaro's impeachment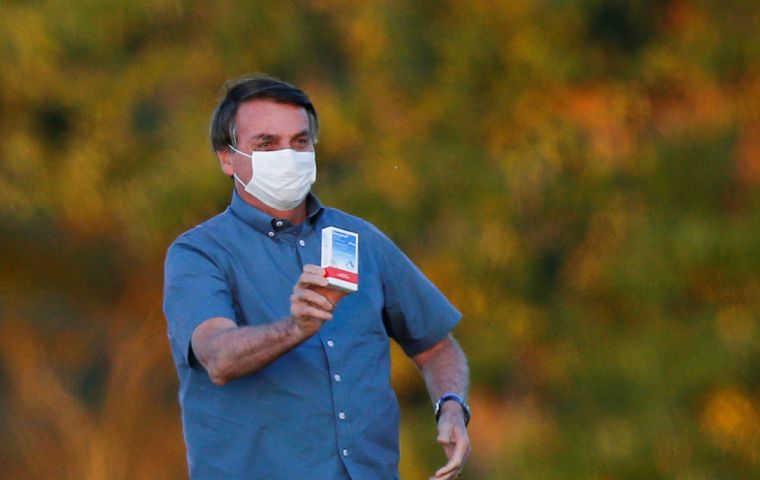 A survey by pollsters Datafolha revealed 49% of Brazilians were in favour of impeaching President Jair Bolsonaro, it was reported.
Other surveys throughout the week had also found erosion in support for the president, despite Saturday's massive rally in his support.
The Datafolha study released Saturday shows that 49% of Brazilians support the removal of President Jair Bolsonaro through an impeachment process, while 46% were against it.
According to the researchers, the numbers represent a technical tie, but this is the first time that the portion favourable to impeachment numerically exceeds the share of Brazilians opposed to removal. In March, a survey by the same institute showed that 46% were in favour of impeachment and 50% expressed the opposite position.
The study also showed that support for impeachment was greater among young people aged 16 to 24 (57%), residents of the Northeast (57%), unemployed looking for a job (62%) and interviewees who say they are very afraid of the coronavirus (60%).
On the other hand, the disapproval of impeachment reaches 52% among men and in the South of the country. The rejection reaches 60% among respondents who say they are not afraid of the coronavirus, 57% among evangelicals and 56% among registered employees.
Datafolha listened to 2,071 people on May 11 and 12. The margin of error is two percentage points higher or lower.
The new survey reflects other surveys that point to a constant loss of support for the president. This week, Datafolha had already revealed that only 24% of Brazilians approved of Bolsonaro's administration.
The president also appeared well behind Luiz Inácio Lula da Silva in a survey that outlined scenarios for the 2022 presidential elections, with only 23% of the voting intentions in the first round, against 41% of the PT.
The unfavourable result for Bolsonaro also occurs at a time of economic, health and political crisis, with the government being accused of incompetence and poor management of the pandemic.