São Paulo mourn Mayor Bruno Covas who dies of cancer aged 41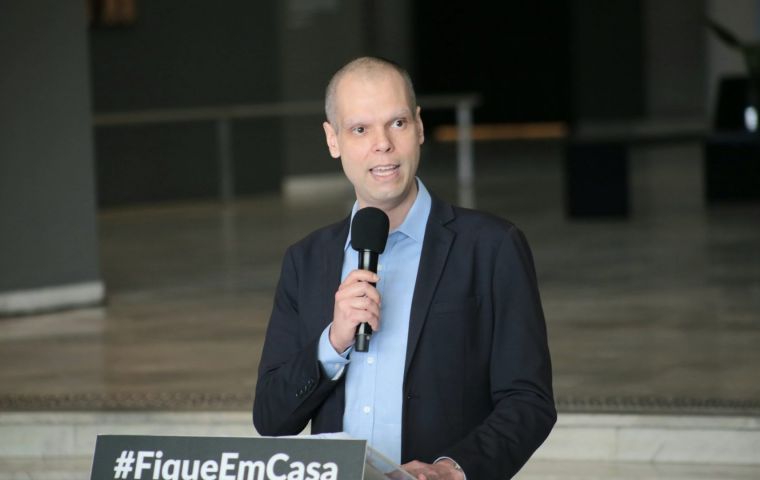 São Paulo Mayor Bruno Covas (PSDB) died at 8:20 am on Sunday at age 41, victim of cancer, it was announced.
Covas had been diagnosed with the disease in 2019. His health condition was deemed irreversible, since last Friday (14) by the team of doctors at Hospital Sírio-Libanês, where he has been admitted since May 2.
The mayor, who was divorced, leaves a son, Tomás Covas, 15.
Deputy Mayor Covas was promoted to mayor of São Paulo in 2018, after the resignation of João Doria (PSDB). In 2020, he was elected with 59.38% of valid votes.
The current deputy mayor, Ricardo Nunes (MDB), will take charge of the city. Covas was already on leave since Nunes took over as acting mayor on May 3.
In October 2019, Covas discovered he had cancer when he sought medical treatment for erysipelas in the legs, which later turned out to be a venous thrombosis. In another battery of tests, in addition to pulmonary thromboembolism, a malignant tumour in the digestive tract with metastasis in the liver was found. The mayor underwent several chemotherapy sessions and stopped them in February this year.
But in April 2021 doctors discovered new cancer spots in Covas, and the liver and bones were affected. He was then subjected to new chemotherapy treatment and also to immunotherapy. Days later, the medical team responsible for the mayor's treatment reported that Covas had accumulated fluids in his lungs and liver.
Covas entered into politics under the influence of his grandfather, former governor Mário Covas
In his administration at the head of the São Paulo City Hall, Covas sought to compose with politicians from the centre-right and right, without failing to mention progressive sectors. He also insisted on the expulsion of Senator Aécio Neves from the PSDB, after he was caught in 2017 asking for R $ 2 million from Joesley Batista, owner of JBS.
Covas' moderate streak was highlighted by several political allies and opponents who released notes of condolence on Sunday.
Dória stated that Covas was "pragmatic and thoughtful". "Bruno Covas was sensitive, serene, correct, rational, pragmatic and thoughtful. A sensible voice, a wide smile and a good heart. Bruno Covas was hope. And hope does not die: she follows, with faith, the lessons he offered us in his life, "he said.
The national president of the PSDB, Bruno Araújo, said that Covas was one of the most promising and brilliant leaders and left "the certainty that it is possible to do politics without hatred, to do politics by speaking the truth."
Eduardo Leite, governor of Rio Grande do Sul for the PSDB, said that Covas sets the example of "dedication for a policy made with respect and balance."
Marina Silva, a former Environment Minister, said that Covas' death deprives the country of "young and capable leadership, a point of balance in the political crisis."
In a message on social networks, former President Luiz Inácio Lula da Silva expressed feelings for "relatives, friends and supporters of Bruno Covas, who left us today after fighting a long and hard battle against cancer."
Former President Dilma Rousseff also praised Covas' trajectory: "Brazil has lost one of its promising political leaders. I want to express my feelings to son Tomás and the whole Covas family, in addition to the PSDB militants and leaders."
Former President Michel Temer said: "With him, part of our hope goes away. Rest in peace."
House of Deputies' Speaker Arthur Lira recorded his feelings for family, friends and the son of Covas. "I admire the fierce way in which he led the pandemic in the largest city in the country and how he did his election campaign for the city," he said.
Orlando Silva, a federal deputy for the Sao Paulo PCdoB, said that Covas was "smart, courteous even to those who opposed him politically. A true democrat."
Guilherme Boulos, from PSOL, who ran for the second round of the 2020 election against Covas, said: "I am very sorry for the death of Mayor Bruno Covas. We had a frank and democratic coexistence. My solidarity with his family and friends at this difficult time. peace, Bruno! "
Covas approached politics from an early age due to the influence of his grandfather, former governor Mário Covas (1930-2001). He joined the PSDB at the age of 18 and was the national president of Tucana Youth from 2007 to 2011.
Graduated in Law from USP and in economics from PUC, Covas won his first election in 2006, for state deputy. Four years later, he was re-elected with the highest vote in the state that year.
He left the Legislative Assembly before the end of his mandate to take over the Environment Secretariat of the Geraldo Alckmin government, and in 2014 he was elected federal deputy.
In 2016, Covas was elected deputy mayor with Doria, representing the most traditional sectors of the PSDB. When Dória was elected governor two years later, Covas took office at the age of 38.