Rio's Jesus Christ "praises" vaccines and China sends key ingredient for their production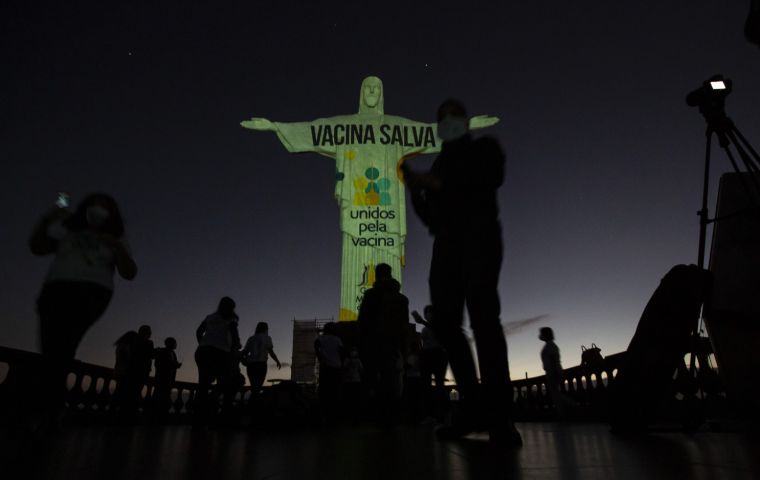 Rio de Janeiro's iconic statue of Jesus Christ was the recipient of an advertising campaign in favour of coronavirus vaccines, which coincided with the news that Brazil would be receiving the key ingredients from China for the local production of immunizers.
President Jair Bolsonaro's politically incorrect approach to the issue had been blamed for China's reluctance to deliver the substances which are required to produce both the Astra Zeneca and the Sinovac jabs.
Although some believers found the display "blasphemous," the truth remains that Rodrigo Cruz, executive secretary of the Brazilian Health Ministry, Monday said the Fiocruz medical research institute would receive two lots of AstraZeneca jab ingredients on Saturday. "The good news is that today I received confirmation that these two lots will be shipped on May 21. It's enough to produce approximately 18 million doses," Cruz told a congressional committee hearing on the covid-19 crisis.
Meanwhile, Sao Paulo State Governor Joao Doria said the state's Butantan biomedical institute would receive ingredients for seven million shots on May 26. "Good news!" Doria, who had blamed the delay on President Bolsonaro's foreign policy, tweeted.
Brazil has been one of the countries hit hardest by the virus, with over 436,000 deaths -second only to the United States- and more than 15.6 million infections. Health experts have also warned that another surge in cases could be imminent in the country's Amazonas region, where a more highly transmissible variant of the virus was first discovered. "A third wave is a big concern. It may not be as explosive as the second but it could last longer," Lucas Ferrante, a biologist and researcher at the National Institute for Research in the Amazon, told Al Jazeera earlier this month.
About 17 per cent of people in Brazil have received at least one dose of the COVID-19 vaccine to date, while only 8 per cent are considered fully vaccinated.
See also: Diplomatic rift with China results in a shortage of active ingredient to produce vaccines in Brazil — MercoPress