Duque picks Colombia's Vice President Ramírez for the Foreign Ministry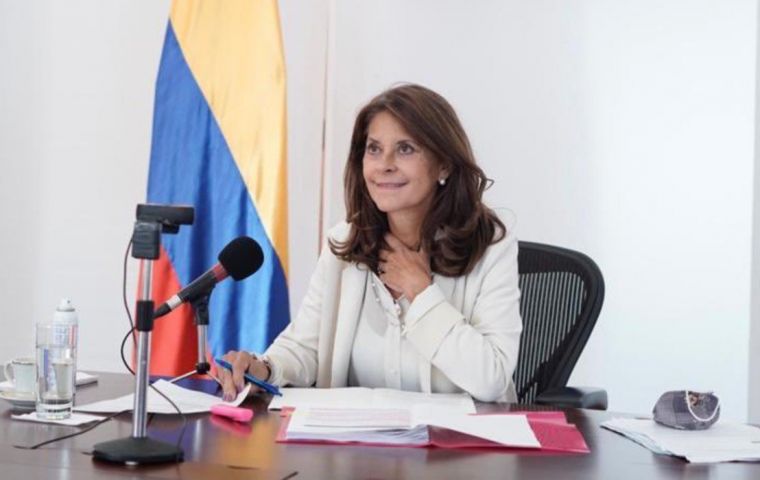 After Foreign Minister Claudia Blum handed in her resignation last week due to the social and political unrest Colombia is going through, President Iván Duque chose to appoint Vice President Marta Lucía Ramírez as her successor.
«I want to appoint our Vice President of the Republic, Doctor Marta Lucía Ramírez de Rincón, as the new Foreign Minister of Colombia. She is a woman with a great career in politics and the private sector," said President Iván Duque in a statement.
Ramírez had presidential aspirations for 2022, however, this new appointment would go down well in various sectors, since she, in addition to being vice president, has also been Minister of Commerce and Minister of Defense.
Marta Lucía Ramírez de Rincón was born in Bogotá on July 4, 1954. She is the oldest of four siblings and the only daughter of Álvaro Ramírez and Alba Blanco.
She has been married to Álvaro Rincón for 42 years. The couple has one daughter after ignoring doctors who told them it would not be possible.
Ramírez studied Law at the Universidad Javeriana and specialized in Commercial and Financial Law. She also has studies in Senior Business Management at the Instituto de Alta Dirección Empresarial (Inalde) of the University of La Sabana and was a fellow in international relations at Harvard University.
She was a professor of Law at the Universidad de Los Andes and the Universidad Javeriana; she was also an international consultant on business development, trade, international negotiations, foreign investment, security, democracy, governance and regional development.
Her public life began at the Banking Superintendency and then at Incomex. She was Minister of Foreign Trade. From there she started the Colombia Digital foundation, with the financial support of a group of businessmen and she created two initiatives: Red Colombia Compite and Young Export Entrepreneurs.
She was Colombia's ambassador to France between February and July 2002. She was later appointed Minister of Defense, being the first and only woman to hold that position. She created the first human rights school in the Armed Forces and encouraged women in the military and police to reach the rank of general.
In 2006 she was elected senator with almost 70,000 votes. She was president of the Second Commission, in which she created the Accidental Commission on Border Zones to develop, promote and monitor border areas. She additionally introduced the "first job" bill. She was a presidential candidate for the Conservative Party in the 2014 elections when she obtained the third-best vote.
Likewise, she has promoted the empowerment of Colombian women in the emotional, political and economic spheres through the Millions of Empowered Women project, holding seminars throughout the country.
In September 2017 she announced that she would run again for the presidency. In March 2018, she participated as a candidate for the citizen movement For an Honest and Strong Colombia, in an inter-party consultation in which she obtained more than 1.5 million votes. As a result of these elections, she became the vice-presidential formula of the candidate of the Democratic Center party, of Iván Duque.
Among her political ideas is to work for the empowerment of women, the fight against corruption, the strengthening of security, the generation of employment, international commercial competitiveness and the strengthening of justice.