Colombian chief negotiator with protesters resigns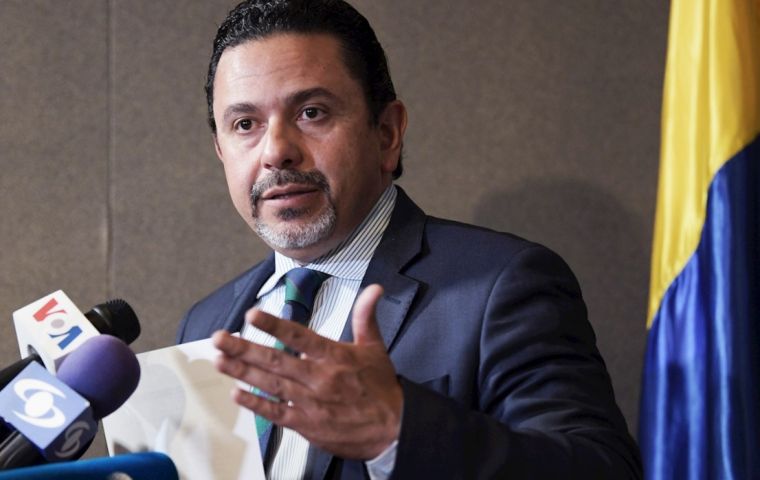 The Colombian Government's High Commissioner for Peace in charge of recent negotiations with the opposition National Strike Committee (CNP) Miguel Ceballos has turned in his resignation to President Iván Duque, it was announced in Bogotá.
Ceballos, reported Saturday that he had submitted his resignation to Duque, who recently added to his functions those of mediating with the CNP.
"I wish to express to you that for reasons of a personal nature, following the calls of my conscience and in fulfillment of the responsibilities that my soul has chosen, I irrevocably resign from my position as High Commissioner for Peace, as of May 26," read the letter sent to Duque.
Despite citing personal reasons, the resignation comes at the peak of the crisis which began through protests April 28 against the Duque administration. President Duque has yet to accept Ceballos' resignation.
Since August 2018, Ceballos was at the forefront of the government's attempts to approach the guerrillas of the National Liberation Army (ELN) to try to reactivate the peace talks that had been suspended for two years.
This task is also halfway there, since on May 9, Ceballos announced that the government continues to seek conditions to reactivate dialogue, although no real will for peace has been demonstrated on either side. Upon assuming the Presidency of Colombia, on August 7, 2018, Duque conditioned the continuity of the peace talks on that group ceasing all kidnappings and releasing the people held in captivity, which the guerrillas have refused to abide by.
Ceballos launched "an indirect space of approach and exploration" with the ELN with which 28 meetings in Bogotá plus four trips to Havana where the leaders of that guerrilla have remained for two years, when talks came to a deadlock.
Since the beginnig of the curent crisis, Duque has alredy replaced three ministers and now Ceballos' letter has added to the administration's perceived feebleness.