Demonstrators back to the streets in Colombia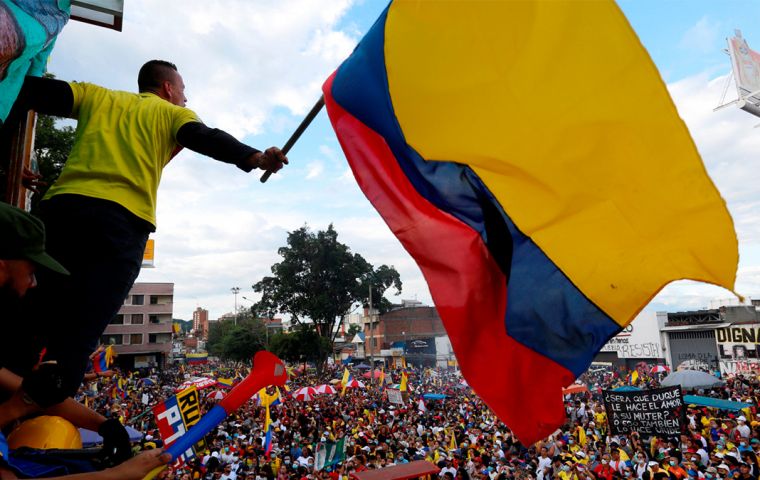 Demonstrators showed up yet again Wednesday in the streets of most Colombian cities to protest against the government of President Iván Duque.
Their demands were focused, as usual, on the dismantling of the Mobile Anti-Riot Squad (Esmad), the elite arm behind recent cases of abuse and illegal killings. Also among the demands was the resignation of Defense Minister Diego Molano, who has been singled out as the person politically responsible for Esmad's doings.
In other protest scenarios, peasants demand the right to land, the application of agrarian reform, the cessation of glyphosate fumigation; indigenous people ask for respect for their cultures, the end of stigmatization, among many other claims. Ex-guerrillas of the defunct Revolutionary Armed Forces of Colombia (FARC) demand the comprehensive implementation of the Peace Agreement and denounce the murders of former combatants.
The National Strike Committee (CNP) still awaits the signing of the preliminary agreement on guarantees for the protests, as the government-appointed Emilio Archila to become its new chief negotiator after the resignation of Miguel Ceballos.

The Committee continues to demand full protest rights as a result of recent police repression which has leftover 40 people dead, around 200 people injured and several others still missing.
Violence has never stopped since the beginning of the uprisings. Late Tuesday, the Palace of Justice in the municipality of Tuluá was burned down and one person died in the incident.
Archila, the current presidential advisor for the Stabilization and Consolidation of the peace agreement with the former FARC, became the new spokesperson and leader of the negotiation by the government on Wednesday. "A voice for all the people who have been affected in many ways, both in their lives and in their property," said Archila, who warned that the government is working to validate the pre-agreement document established with the CNP.
The new government spokesman was optimistic about the progress towards the final negotiation with the protesters but demanded in a less airy tone than his predecessor for the end of the blockades. "The government's concern about the blockades and our absolute conviction that those blockades must end. The consequences they are having has nothing to do with the protest, they are beyond what is reasonable," he said.
Since April 28, Colombia has been in the public eye for the growing denunciation of human rights violations at the hands of the public force in the framework of the national strike. In this context, human rights and non-governmental organizations such as Temblores NGO register around 60 deaths in the protests, hundreds of wounded and missing, some 40 people with eye injuries, among other abuses, at the hands of the public force.