Three more die in day marking first month of unrest in Colombia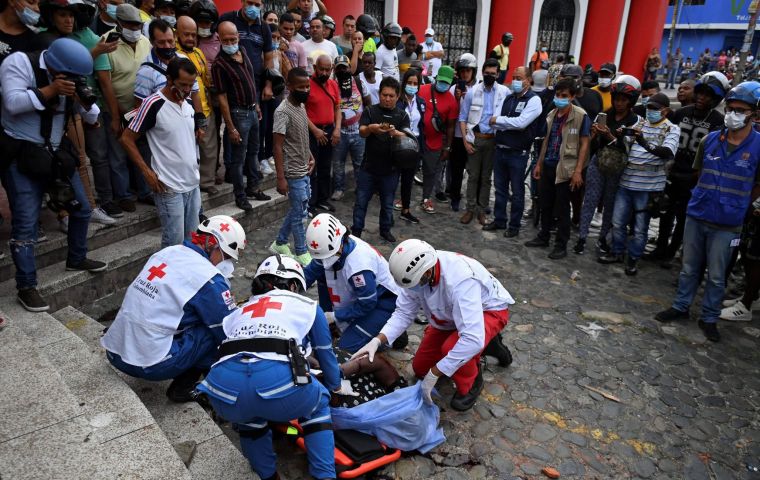 Colombian President Iván Duque Friday ordered the deployment of military forces in the city of Cali to support the local police in preserving peace amid growing unrest and violence, which left three more people dead.
"As of tonight, the maximum deployment of military assistance to the national police begins in the city of Cali," Duque announced. "This deployment will almost triple our capacity in 24 hours," added the president.
Cali, Colombia's third-largest city, is going through chaos and protests which have resulted in at least three people killed on the day demonstrators were celebrating the first month of the uprisings. Duque also decreed a curfew as of Friday for the city of 2.2 million inhabitants.
Among the dead, Friday was an investigator from the Prosecutor's Office who was on his day off, got caught in a blockade and ended up lynched by protesters, according to local reports.
So far 49 deaths have been recorded officially since the beginning of the unrest, but the NGO Human Rights Watch claims to have "credible complaints" about 63 deaths.
The outbreak began when the government wanted to burden the middle class, hit by the pandemic, with more taxes to fill the fiscal gap left by the economic emergency.
Duque withdrew the proposed bill and has since replaced several members of his cabinet. But by that time police repression had made way for a completely different series of demands ranging from freedom of speech and protest to the rights of the indigenous
Cali has been the epicentre of the demonstrations with road blockades that affect supplies to various parts of the country's southwest, which is why the Government insists on the lifting of those hindrances before negotiations may proceed. But the opposition National Strike Committee (CNP) defends the "points of resistance" as a form of protest and wants Duque to apologize for the excesses by law enforcement agents.
Hence, the call for Friday's demonstrations. Thousands to the streets but once again were met by excessive violence, it was reported. People in civilian clothing fired at the protesters. It was amid one of those incidents that the official from the prosecution was lynched to his death.
Leftwing analysts have claimed that Duque seeks some sort of coup from within, which would allow him to remove all the opposition mayors, take away all civil rights and cancel next year's elections.
The CNP Friday blamed Duque for the stalling of the negotiations and the delay in signing a preliminary agreement on social protest in Colombia, although a meeting has been scheduled for this coming Sunday during which the protesters seek a written guarantee from the administration that their rights to march are to be honoured.