Colombians dressed in white take to the streets of Bogotá to demand an end to protests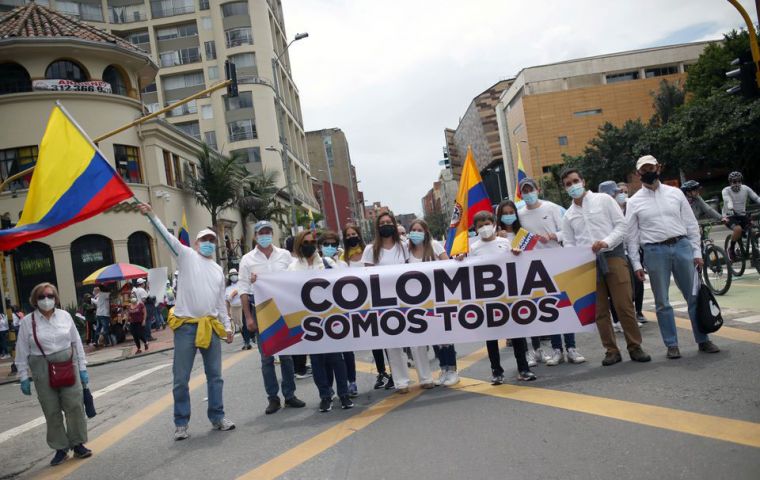 Thousands took to the streets on Sunday in Bogotá to demand an end to protests and roadblocks and to express support for security forces. The demonstrators dressed in white and waving Colombian flags seem to be the response to almost a month of rioting and clashes bloody clashes between protestors and the forces.
The roadblocks have caused shortages of food, fuel and supplies in some parts of the country, particularly in Cali, the third-largest city of the country.
The peaceful demonstration in Bogotá was the backstage for ongoing talks between government and protest leaders later on Sunday. Talks have been stalled because the government wants a specific condemnation of roadblocks (a non-negotiable point) and protestors of an end to police violence.
The month of protests has been beset with violence. The national government has so far linked 17 civilian deaths and the deaths of two police officers to the protests, while rights groups say security forces have killed dozens of civilians.
In Colombia's third-largest city, Cali, 13 people were killed during a day of protests on Friday, Mayor Jorge Ivan Ospina said on Saturday, stressing it was not certain how many of these were linked to demonstrations.
The United Nations High Commissioner for Human Rights, Michelle Bachelet, on Sunday called for those responsible for the violence in Cali to be held accountable.
"I call for an end to all forms of violence," she said in a statement, calling for an investigation into the deaths and injuries.