UK reports "zero deaths" of covid-19 as summer season looms over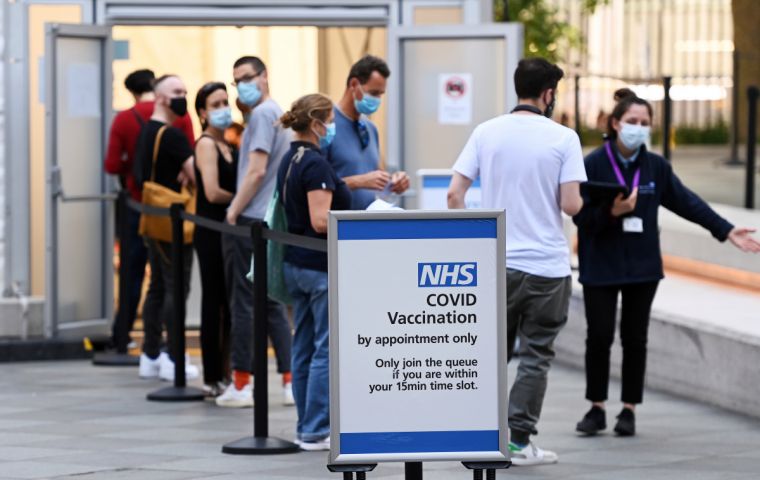 The United Kingdom has registered a total of "zero deaths" of covid-19 in the last 24 hours, which would signal that vaccines do work, according to optimistic health care analysts.
This achievement is being registered in the country where immunization started December 8 and has already administered in at least 65 million doses.
The new report has been welcomed as a sign of relief amidst the spread of one of the coronavirus substrains now known as Delta and which was previously referred to as Indian, but which has been split into Delta and Kappa, according to the World Health Organization's relabelling this week.
Tuesday's data was an absolute first since the beginning of the pandemic in the spring of 2020. However, according to the latest international parameters which require for a death to be registered as caused by covid-19 that the patient had tested positive in the previous four weeks, July 30 should also have been a day without victims.
The new results are nevertheless an element of "hope for the near future", according to the head of statistics for BBC News Robert Cuffe, who was sceptical about Tuesday's data. There are still "some yes and some buts," Cuffe said. He added that on Mondays and Tuesdays the British data are usually lightened by the traditional delay in the collection of part of the information referring to the weekend. The truth is that months have not seen a day without a single death recorded by a coronavirus and even daily infections decreased slightly compared to Monday: 3,165 positive cases out of 602,000 swabs performed.
The total of deaths since the beginning of the pandemic is 127,782, as the country gradually exits the harsh lockdown measures, with the next crucial stage set for June 21, the day Summer begins.
Prime Minister Boris Johnson is said to be monitoring data carefully to reduce fears, errors or new data which may arise, as he has ordered the vaccination campaign to speed up.
However, Professor Adam Finn, a virologist and government consultant to the Joint Committee on Vaccination, has urged his compatriots not to delude themselves that "the battle against Covid is already won" as they hope to reach at least the goal to immunize 100% of the adult population by July 31 with one dose.
With that in mind, the British Medical Association (BMA) has formally asked the government to postpone the June 21 deadline, in a move to put data before dates.