Ballet performance marks pilot trial of Uruguayan green pass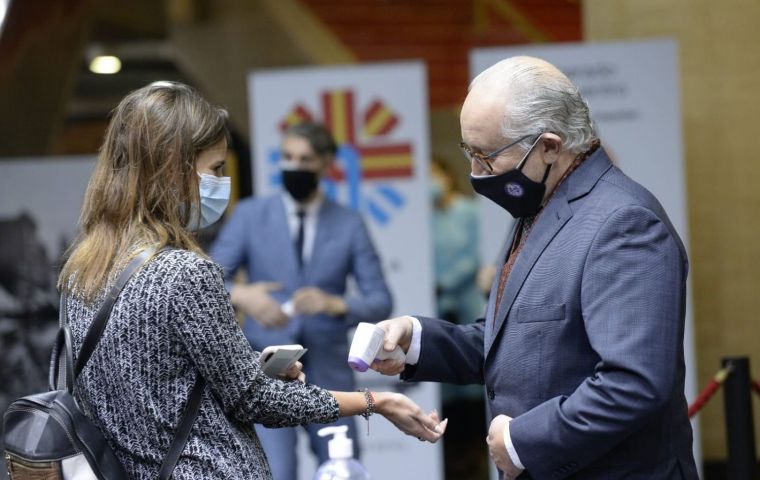 Uruguayan authorities held a pilot test of the "green pass" with an event at Montevideo's Sodre auditorium Saturday evening.
Saturday's event at the Hugo Balzo Hall of the Adela Reta National Auditorium (Sodre) was attended by Health Minister Daniel Salinas and Education Minister Pablo da Silveira.
The work "Choreographic Workshop 2021" was performed by the Sodre National Ballet directed by Maria Riccetto.
For the event, attendants took an antigen test before admission and had to keep their masks on at all times.
Later, at a press conference, Minister Da Silveira said that "it is an important step, not because anything new will happen tomorrow. What we are doing is fine-tuning a tool that is already being used in other countries, such as Germany, Italy and Spain with good results".
"The objective is not to have to wait until the pandemic has finally ended to start a cultural activity," Da Silveira added. The government knows that this sector "is suffering and that many people live off the sale of tickets," he went on.
"Reopening as soon as possible and doing it in safe conditions is the first objective of this test and a second objective is to be able to raise the capacity," the minister added.
Due to union measures of Sodre workers, Minister Da Silveira and the Sodre head Martín Inthamoussú were in charge of measuring gauging the temperature of about 130 people volunteers who took part in the event.
Meanwhile, outside the National Auditorium of Sodre posters were staged against both vaccination and the "green pass" led by former presidential candidate Gustavo Salle of the Green Animalist Party.
After the event, Da Silveira thanked María Inés Obaldia, Director of Culture of the Municipality of Montevideo her Director of Health colleague Virginia Cardozo for their presence.