CNP to go on protesting as dialogue with Colombian government yields no progress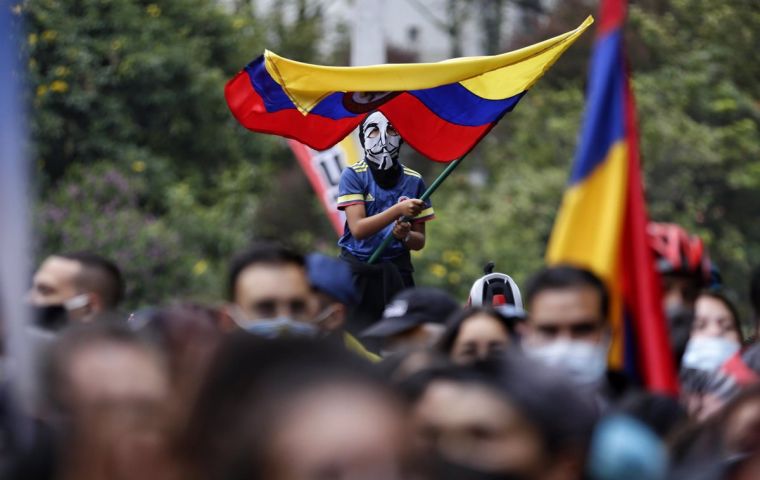 Colombia's National Strike Committee (CNP) Sunday decided to push through with marches and demonstrations as a dialogue with the administration of President Iván Duque was leading nowhere.
Mobilizations are scheduled for Monday bringing together labor unions and student organizations as the national Government failed to sign a pre-agreement guaranteeing basic freedoms to speech and protest due to which the CNP withdrew from all negotiations and announced through a statement the fedeeral administration was not interested in reaching a solution.
After eight days of talks, the Government said it would bring the issue to inter-ministerial consultation and came back to the negotiating table empty-handed. The CNP National Committee is still waiting for the Government to accept the May 24 pre-agreement and repeal Decree 575 that authorizes military assistance for the management of social protest, the statement said and it added that the Duque administration was stalling the emergency document because doing so would imply dealing with requests that entail social obligations to benefit millions of Colombians, which the authorities do not want to attend to.
The CNP insisted the Government was more interested in using force than in attending to the various demands of the youth, the indigenous communities, the truckers and the CNP itself, despite 77 killlings, 1,246 people injured, 2,808 arrested and 106 women victims of sexual violence and dozens of young people with eye injuries, according to NGOs watching the Colombian crisis closely.
On April 28, a national strike began against a tax reform, promoted by the Duque government, which increased taxes on goods and services and created new taxes. The protests that day continued and led to a social outbreak, considered to be the largest, strongest and most sustained over time in the last 70 years.
"This attitude of the government leads us to suspend the negotiation and evaluate the continuity of the talks carried out with the government. As part of that process, we will deliver to the Inter-American Commission on Human Rights, IACHR, the preliminary agreement of May 24 on the minimums for guarantee the exercise of peaceful social protest," the CNP statement read.
The Government has insisted that prior to any further talks all roadblocks must be lifted as a condition for dialogue.