No mandatory jab for Copa America players in Brazil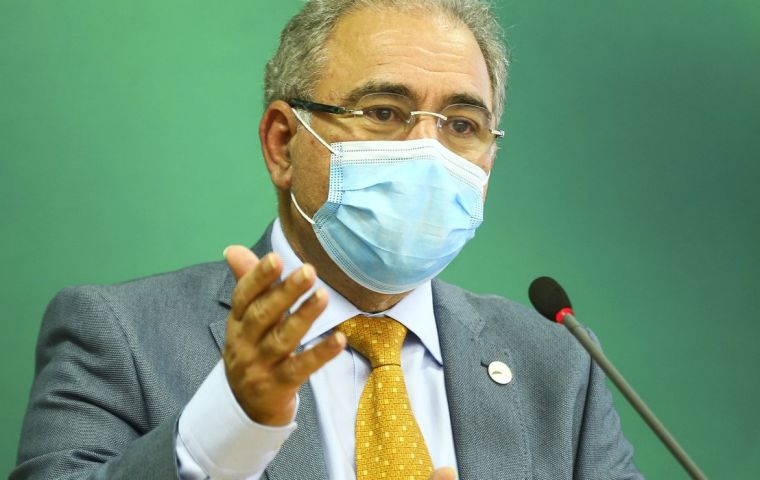 Brazil's Health Minister Marcelo Queiroga Monday announced players taking part in the upcoming Copa América shall not be required to be vaccinated, contrary to what had been announced last week.
The South American Football Confederation (Conmebol) made a last-minute decision to reschedule the event from Colombia due to political unrest and then from Argentina due to the coronavirus pandemic. At the time of that announcement, it was also specified that athletes wishing to compete should be vaccinated against covid-19.
"If the vaccination of athletes is required at this time, they will not have been immunized until the start of the competition (June 13), (...) it will not be an imposition that the vaccine is applied," said Queiroga.
"It's better if they have the vaccine, but no great effort will be made for other athletes to have it because the vaccine could cause a reaction and could compromise the rhythm of the players," Queiroga said.
Last week, President, Jair Bolsonaro, had assured that the event would conform to sanitary protocols such as those applied in other competitions.
And Chief of Staff, General Luiz Eduardo Ramos, assured that the members of the ten delegations, not just the players, were going to be vaccinated.
Brazil has recorded over 474,000 deaths from covid-19 and faces the risk of a third wave that could arrive during the Copa América dispute, which ends on July 10, according to several researchers.

The event will begin Sunday in Brasilia and will end July 10 in Rio de Janeiro, where this Monday the Socialism and Freedom Party (Psol, left) filed an injunction in court for the suspension of the games in that city.
The holding of the Cup was "received with enormous concern by the population" of Rio, says the document delivered to Justice by Deputy Flavio Serafini, from Psol.
Meanwhile, Bolsonaro said he saw "indications" that the number of people killed by the coronavirus had been manipulated and that 50% of the deaths attributed to covid-19 would have been caused by other ailments.
On Tuesday he insisted there were "enormous indications that there was overreporting of deaths so that the governors obtain more federal resources" destined to combat the pandemic. There are "many people saying my father, my uncle, my grandfather did not die of covid", but of another ailment, he assured.
He maintained that the death curve in 2020 was suspiciously atypical. "Since 2015, the death table grows 5%, 7%, 15% each year, but in 2020, if the number of deaths from covid-19 is taken, which was about 200,000, there was no growth in deaths in general (...), there was negative growth, this is a huge sign" of data manipulation, he raised.